Electrolux's Holy Trinity for Hit Products
The world's No. 2 appliance maker uses an "innovation triangle" to speed product development
By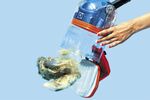 What is the most unpleasant thing about vacuuming? Swedish appliance maker Electrolux has a lot riding on the answer. So two years ago the company's market researchers spent hours in homes in Australia, France, and Russia, watching and asking questions as people vacuumed, then cataloging the "pain points." Their findings led Electrolux to develop a bagless vacuum cleaner, the UltraCaptic, that compresses dust into a spongy pellet, eliminating flyaway particles when the machine is emptied.
The effort is part of a push by Electrolux, the global No. 2 appliance maker behind Whirlpool, to revamp the way it develops and updates its lineup. The company wants to get new models like the UltraCaptic on the market 30 percent faster by 2015, while increasing what Chief Executive Officer Keith McLoughlin calls its "hit rate" with customers. "We're not just looking to win awards," he says. "What we get paid to do is consumer-focused innovation."
The big surprise may be that $17.4 billion-a-year Electrolux didn't do this earlier. For much of its 94-year history, the Stockholm-based company, which in addition to its namesake refrigerators and ranges sells appliances branded Frigidaire, Molteni, and AEG, had product development run mainly by engineers and accountants. Having customers weigh in "even five years ago would have been revolutionary," not only for Electrolux but also for most of its competitors, says Bill Fischer, a professor at Swiss business school IMD who specializes in innovation management.
Facing brutal price competition from rivals such as China's Haier, Electrolux is rolling out more upscale equipment for at-home cooks who fancy themselves chefs, such as ovens outfitted for sous-vide cooking in vacuum-sealed bags, and a line of minimalist stainless steel appliances called Grand Cuisine that can send the cost of a fully outfitted kitchen to $100,000 or more. At the same time, the company is fine-tuning its offerings for fast-growing markets: In China, where stir-frying is commonplace, Electrolux recently introduced a high-powered but low-noise range hood.

Two years ago, Electrolux institutionalized what it calls an "innovation triangle," bringing together the design, research and development, and marketing departments to jointly hammer out decisions on new products. Management in Stockholm embraced the idea after it was successfully pioneered by the company's Brazilian unit. The company tests potential designs with focus groups. Anything with a less than 70 percent approval rating is deemed not ready for prime time.
The introduction of the UltraCaptic illustrates the process. Bagless vacuum cleaners are rapidly gaining market share globally, and Electrolux wanted to introduce a model that would stand out from competitors such as Dyson and Hoover. In watching people vacuum their homes, researchers looked for things that were annoying, says Anton Lundberg, an Electrolux vice president who oversaw the effort. "One of the pain points was, when you emptied the dust, you saw particles flying around."
The brief was turned over to designers, who suggested adding a built-in compactor to compress dust into a disc that could be dumped into the trash without creating a dust storm. The idea was presented in another round of focus groups, to enthusiastic response. The R&D side of the triangle weighed in next, assessing the pros and cons of different approaches. For example, a motorized compactor would be more powerful than a manual piston, but would be more expensive and require batteries. In the end, the manual compressor won.
Before settling on a final design, Electrolux convened additional focus groups to review the alternatives, pitting them against models offered by rival companies, with brand names concealed. The 70 percent rule was applied at each stage. With its transparent dust collection chamber and colorful molded plastic trim, the UltraCaptic looks pretty similar to some Dyson models. In Europe it sells in the $400-$450 price range, slightly less than Dyson. However, it carries a $700 price tag in the U.S., where it went on sale in late October. The U.S. model costs more because it includes a motorized carpet nozzle, a feature American consumers prefer, an Electrolux spokesman says.
For its pricey Grand Cuisine cooking gear, Electrolux has sought advice from architects and interior designers—partly, the company says, because the well-off rarely participate in focus groups. Among the professionals' suggestions: For a sleek, uncluttered look, use touchscreen controls on ovens, and don't put knobs on the surface of cooktops.
Such interactions have helped elevate the role of design within the company, says Stefano Marzano, who was head of design at Dutch electronics group Philips for 20 years before Electrolux hired him in 2012 to fill the newly created position of chief design officer. Marzano says Electrolux is one of just a handful of global companies—Apple is another—where the chief designer reports directly to the CEO. "The difference is the way that design is positioned within the company. Design is a core function here," he says.
For the sake of cross-pollination, Electrolux rotates its more than 200 designers among eight major design centers worldwide, dispatching an Italian designer to Sydney or a Brazilian to Stockholm. Marzano says the company is carrying out research on broader issues, such as the needs of people living in small apartments in Asian megacities. One result of this effort is a petite upright, ultraquiet cordless vacuum cleaner that's widely sold in Japan and South Korea.
Electrolux also hosts more freewheeling events. At corporate headquarters in Stockholm, employees attend sessions with experts ranging from food scientists to acoustic engineers. The meetings are video-streamed companywide. Last year, Electrolux hosted a three-day online "innovation jam" in which 7,500 employees pitched ideas. The exercise will be repeated this month. Regardless of whether the suggestions prove workable, "it's a good way of finding people who are really good," says Joachim Rask, vice president for innovation operations.
The company is putting out the word that it welcomes far-out ideas. It sponsors an annual competition in which aspiring designers from around the world submit proposals for appliances. This year's prizewinner: a swarm of bumblebee-size drones that can squirt, squeegee, and disinfect a room from floor to ceiling. Another finalist was a "breathing" wall with gill-like apertures that filter the air.
As it changes the way it tackles design and development, Electrolux is likely to redraw itself as a company, says IMD's Fischer: "What Electrolux is doing is moving from being a capital-intensive organization to trying to be a talent-intensive organization, to know more, and know it faster, and be ready to react."