Get Ready for the Surge of Cheap Tablets
Low-cost parts open the way for alternatives to Apple and Samsung
by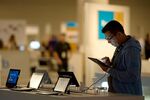 Apple, Amazon.com, and Google have a secret: Cutting-edge tablet parts may be pricey, but pretty good ones are getting cheap. You wouldn't know it from those companies' latest tablet launches, all of them well above $200. The new retina display-equipped iPad Mini 2 goes for $399. Phil Schiller, Apple's vice president for product marketing, says his company isn't interested in devices priced below $200. "We think there are two markets, the iPad and everything else," Schiller says.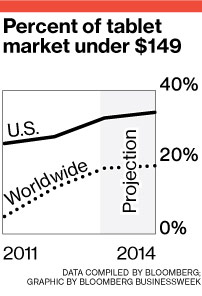 Turns out everything else is a pretty big deal. Name-brand PC makers including Lenovo and Asustek Computer are readying tablets for the holiday season that will retail for less than $149—a segment that will account for almost 35 percent of the U.S. market next year, up from 25 percent in 2011, according to Tom Mainelli, an analyst with market researcher IDC. Wal-Mart Stores and Target plan to discount those prices to $50 or less to entice Black Friday shoppers, says NPD Group analyst Stephen Baker. The companies declined to comment.
The falling cost of components is making the tablet market easier to crack. Chinese semiconductor companies such as Rockchip now sell chip systems for $5, one-quarter of what U.S. companies charge. Displays that cost more than $100 two years ago are tens of dollars today. All told, a garden-variety tablet's parts, from memory to shell, now cost $60, compared with $175 in 2011.
Tablets priced at $79 from Asian manufacturers such as Kobii, Ematic, and Le Pan have been on sale for more than a year, but sales have been slow. More people will buy from a brand they recognize, says IDC's Mainelli. Jeff Meredith, Lenovo vice president for marketing, says that by Christmas his company will be selling a tablet with a 7-inch screen for less than $100. "This market is about to emerge from Apple's reality-distortion field," says Stephen Dukker, the former chief executive officer of 1990s cheap-PC bellwether eMachines. His new company, Ooio, plans to introduce a 4G-equipped 7-inch model in January for $139, roughly $100 cheaper than most 4G models.
There's a higher learning curve to cranking out bargain-priced tablets than there was to slapping together cheap desktops. With a supply of standardized components, PC assembly mainly requires a screwdriver or a good outsourcing firm. Tablets have to be light and attractive enough for consumers to want to carry them around all day, so engineering and design are crucial. U.S. telecom regulations require that cellular-equipped tablets be tested in all major cities and regions where a company wants to sell them.
Fast-dropping component prices make the business even more treacherous. In the past 18 months, Ooio had to scrap two models of its tablet that were in development as far cheaper screens and other parts came to market. That's why Lenovo and others aren't abandoning the pricier end of the spectrum. On Oct. 30, Lenovo announced new kickstand-equipped devices for $249 (8 inches) or $299 (10 inches).
Most device makers may not be able to afford to stay out of the lower range, says Lenovo's Meredith. "Where we hope the market is going is different from where we see it going," he says. "The majority of the growth is at the low end." Soon tablets may start to seem more like a disposable commodity, says NPD's Baker. "If you spend $75, are you looking for a high-precision piece of technology?" he says. "Or will you just go buy a new one when the battery dies in a year and a half?"
Before it's here, it's on the Bloomberg Terminal.
LEARN MORE