The King of McDonald's Ketchup Also Makes the Special Sauce
By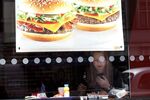 You may have heard recently that McDonald's is dropping Heinz—supposedly because the ketchup maker is now led by Bernardo Hees, who also happens to be vice chairman and the former chief executive officer at fast food rival Burger King. Despite worries that you'll soon be drowning your fries in a replacement sauce that's as bitter and watery as your tears, few American diners will be affected by the change. Apart from Pittsburgh and Minneapolis, the chain serves ketchup from other manufacturers, including Golden State Foods, a $6 billion food processor and distributor based in Irvine, Calif.
McDonald's ditched Heinz in the U.S. after a tomato shortage created supply issues at the ketchup maker in the 1970s. In addition to the two American cities, the company has offered Heinz only in other countries. "Globally, Heinz represents a small percentage of McDonald's condiment and sauce business," says McDonald's spokesman Lisa McComb.
Golden State, founded in 1947, has worked with the Golden Arches since the 1950s and is now a primary distributor throughout the U.S. and the Middle East. It doesn't just make ketchup for McDonald's, either. As condiments go, Golden State says it developed Big Mac sauce (aka special sauce) and such "liquid products" as mustard, jam, syrup, dipping sauces, and salad dressings for the chain. In a departure from the liquid business, it also makes McDonald's beef patties. It works with additional manufacturers to supply McDonald's throughout the world with other things, too, including fresh produce, bakery goods, paper, and other operating supplies.
The company employs 4,500 people worldwide. Golden State has 40 facilities and it services 25,000 stores in 60 countries, including chain stores for Chipotle, Chick-fil-A, Starbucks, Nestle, Arby's, Zaxby's, Taco Bell, and KFC.
It's not McDonald's sole condiment supplier. (A McDonald's webpage names McCormick as a separate source of ketchup.). Still, a Golden State Foods representative says it "is one of McDonald's primary suppliers of liquid product."