Small Business Health-Care Shopping Delayed, Again
By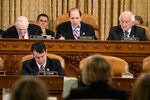 Even before the deep flaws of healthcare.gov became clear, there were signs that the government wasn't prepared. Just days before the Oct. 1 launch date, officials delayed the part of the federal website that was supposed to let small employers shop for health plans, saying it would be ready in November.
Now, make that late November, according to testimony from Marilyn Tavenner, chief of the Centers for Medicare and Medicaid Services, which is in charge of the federal health exchange. That doesn't leave a lot of time for companies that want to buy insurance policies effective for Jan. 1, 2014.
The delay was disclosed during a hearing Tuesday that House Republicans used to grill Tavenner over the website's failures. The Spanish-language version of the healthcare.gov site is on the same late schedule. (The states that built their own marketplaces aren't affected by the federal delay, though some appear to be behind.)
Companies with fewer than 50 employees aren't required to purchase health insurance under the Affordable Care Act. The business marketplace, known as the Small Business Health Options Program, or SHOP, also won't have set enrollment windows. Once it's running, companies can purchase policies throughout the year, unlike individuals who must enroll by March 31, 2014 to get coverage next year.
Employers with more than 50 staff have gotten a one-year reprieve from the law's requirement that they offer workers affordable health insurance or pay a fine. The troubled launch of healthcare.gov prompted lawmakers, including some Democrats, to call for giving individuals a similar break in 2014 by extending the enrollment period or lifting the penalty for skipping insurance next year. That's something the insurance industry desperately wants to avoid.
Before it's here, it's on the Bloomberg Terminal.
LEARN MORE