Should the Unemployed Have to Work Without Pay at For-Profit Businesses? A British Court Says No
By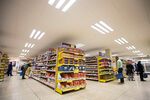 When Britain introduced workfare in 2011, it added an unusual twist: Some welfare recipients were required to do unpaid work at for-profit businesses, such as big-box retailers, to continue receiving their benefits. On Oct. 30, the country's Supreme Court ruled that was illegal.
In U.S. workfare schemes, most participants work either in community-service jobs or at private businesses, which receive government subsidies in exchange for training the workers and paying them the same wages as other employers. But in Britain, recipients have been put to work without pay for as long as two months, doing such jobs as cleaning and stocking shelves in retail outlets, including Tesco. If they refused to work, they lost their benefits.
When details of the program sparked controversy in 2011, Tesco said initially that it thought the workers were voluntary participants in a training program. The company then said, however, that it would hire welfare recipients for paid positions, if their work was up to snuff.
The unpaid-work requirement was challenged in a lawsuit by Cait Reilly, a recent university graduate who had been doing volunteer work at a museum while looking for a job. To keep her unemployment benefits, she was required to take an unpaid job cleaning shelves at a discount store. She was told that the work was to help her gain experience. "No one really knew what we were supposed to be doing. We were just put on the shop floor and told to tidy shelves," she told the Guardian at the time.
The Supreme Court ruled that such arrangements were illegal because participants weren't adequately informed in advance. It stopped short, however, of saying that unpaid work amounted to "slave labor," as critics have alleged.
Work and Pensions Secretary Iain Duncan Smith, whose agency runs the workfare program, said after the ruling that he was pleased the court had "upheld our right to require those claiming a jobseeker's allowance to take part in programs which will help get them into work."
Before it's here, it's on the Bloomberg Terminal.
LEARN MORE