Giving Drivers Something New Pays Off for GM and Chrysler
By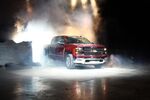 The boss of an automaker could do worse than taking a cue from the Boss. Here's the Bard of New Jersey's take on the car business:
Now mister the day the lottery I win
I ain't ever gonna ride in no used car again.
— Used Cars (1982)
In recent years, Detroit has been somewhat reliant on making new "used" cars—refreshing rather than redesigning its models year after year. It's a subtle difference but an important one. Refreshing requires some aesthetic tweaks and upgrades, such as new headlights, while a redesign forces factories to close for a few weeks and reengineer a vehicle from the frame up.
But with cars lasting longer and requiring less upkeep than ever, consumers need more than some cosmetic tinkering and a new-car smell to fork out tens of thousands of dollars for a vehicle. Until this fall, for example, General Motors' Chevy Silverado pickup hadn't been overhauled since 2006. Same story with its GMC Sierra.
The renaissance of those two high-profit trucks was the main reason GM cruised right by estimates on Wall Street with global deliveries surging 4.6 percent, to almost 2.4 million, in the last quarter.
All told, GM is offering 18 new vehicles this year, and another 14 are lined up for 2014. Not surprisingly, the company has added 7,000 workers in the past year, a 3.3 percent increase.
"We're in the very heart of the product launch activity right now, and we're going to build on the momentum that we've established here," GM's chief financial officer, Dan Amman, told reporters in Detroit.
A similar dynamic is playing out at Chrysler. Thanks to a redesigned Jeep Grand Cherokee and Ram pickup, the company's profit climbed 22 percent, to $464 million, in the recent quarter. Those returns were also fueled by the Dodge Dart, an entirely new vehicle launched under the moniker of a model the company scrapped in 1976.
How impressive are the gains? Here's a look at recent U.S. sales for some of the overhauled models:

Detroit executives, however, still have some work to do. Lately, Springsteen's been seen driving a Range Rover.