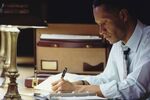 Making Big Law look more like the rest of America, ethnically speaking, has long been a source of anxiety within the profession. Last night I had a chance to visit with 150 or so high-powered attorneys, most of them African American, to discuss this touchy issue. The fourth annual Lawyers Forum put on by a commendable group called the Council of Urban Professionals provided stimulating conversation, reason for hope, and, inevitably, a bitter sprinkling of frustrations.
In case you're wondering, I was a token "white dude," as one of my dinner companions put it, and the council invited me to moderate a panel. For the obligatory group photo, one of the organizers explained: "You can be our diversity." That felt a little awkward, but I took it in the spirit (I'm pretty sure) it was intended.
Minority lawyers are making slow—very slow—progress integrating the ranks of corporate legal departments. Asian Americans and Hispanics are advancing more quickly than blacks, according to the Minority Corporate Counsel Association. The story at law firms is not as encouraging. Four percent of firm associates are African American, according to the most recent data from the National Association for Law Placement. Something happens on the way up the ladder, however, as only 1.7 percent of law firm partners are black. "Are African-American Attorneys Losing Ground?" one blogger for Vault career website plausibly asks.
Instead of programmatic solutions to minority underrepresentation, the evening's discussion illuminated individual tales of achievement: models for consideration and possible emulation. The main attractions were two extraordinary African American women. Michele Coleman Mayes described a career that has taken her from the U.S. Justice Department through the ranks of various corporate legal departments, culminating in her role as executive vice president and general counsel at Allstate. She left that position in 2012, when she became vice president and top in-house lawyer for the prestigious New York Public Library. Teri Plummer McClure got her start at law firms before ascending swiftly at United Parcel Service, where she now heads the package-delivery giant's legal, compliance, and communications departments.
How'd they do it?
First of all, they rose because they worked their butts off. McClure told an endearing story from her days as a young law firm associate when she responded half-heartedly to what seemed like a boring and onerous assignment. She had to double back under the skeptical eye of a partner. She made that mistake just once, she said, and today describes herself as an über-demanding, detail-obsessed taskmaster.
Mayes had her own tale of not getting a promotion she thought she deserved and zoning out when her then-boss explained the reasons she wasn't quite ready. Listen to the criticism, she learned, even if you disagree with it. That same boss later got behind her, and she has long since left him in the dust, careerwise.
A second lesson McClure and Mayes imparted had to do with information. One cannot rise within an organization—corporation, law firm, or traveling circus—without understanding who's on the rise, who's on the decline, what the customers are saying, and so forth. It is an open secret in the legal world that minority lawyers are far more often victims of being out of the loop than they are targets of old-fashioned, explicit racism. Get in the loop, McClure and Mayes instructed.
McClure told of attending the daily 7:30 a.m. cafeteria breakfast that's a tradition for top executives at UPS's Atlanta headquarters. She does so even when she's not really in the mood for grits at that hour, let alone a rehash of last night's pro sports highlights. In between game scores, though, she has found that her colleagues exchange critical intelligence about market conditions and incipient projects. Some of that information never makes it into formal memos.
Mayes recounted that at one stage in her career, more senior male colleagues repaired to a favorite steakhouse whenever they celebrated "making their numbers." Well, she's a vegetarian and could think of a lot of other ways to mark a good quarter that would not involve a long evening of alcohol and sirloin. But off to the steakhouse she went—that's where the information was.
McClure and Mayes reserved some raised eyebrows and veiled negativity for the every-man-for-himself environment that characterizes many major law firms. On the whole, McClure noted, corporations promote an ethos of solidarity and common purpose—one she has found more congenial to doing legal work. She indicated a diminishing amount of patience for the law firms that seem to operate on a business model of maximizing their UPS billings in a frenzied dash for partner profits. It struck me that there were lessons in these comments, not just for minority lawyers on their way up, but also for a legal industry gripped by instability and uncertainty.
Before it's here, it's on the Bloomberg Terminal.
LEARN MORE