Why Lands' End Would Be Better-Looking Without Sears
By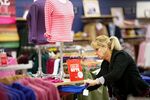 In its protracted attempt quest to squeeze some value out of its flagging closet of brands, Sears may sell or spin-off Lands' End, a 50-year-old apparel line that it bought in 2002 for $2 billion. The pitch circulated this morning was stuffed with typical boilerplate language: A split or sale, Sears suggested, would let both companies more freely "pursue strategic opportunities," "attract talent," and "allocate capital." Any separation would be structured in a way "that would allow existing shareholders the opportunity to benefit … over the long term."
Translation: We honestly think this is a good asset—we're just not doing it justice.
Despite the corporatespeak, Sears has a point. What does Lands' End get from the long-suffering department store? The purchasing power of an enterprise with almost $12 billion in annual operating expenses, for one, along with a pretty robust supply chain and a massive—albeit shrinking—distribution network. Beyond that, the positives trail off. And with credit ratings on the brink of "junk," Sears can't be much help on the financing front.
Make no mistake, Lands' End has aspirations beyond surviving a further three months. The company, still operating out of its longtime headquarters just west of Madison, Wisc., has added trendy patterns (Camo Lambswool Crewneck Sweater, $99) and its new "Canvas" line has the two things any fashion-focused label needs these days: slim-fitting apparel and a Tumblr full of heavily filtered photographs.
"We are developing fashion in a way where there is a calculated risk," Lands' End Chief Executive Officer Edgar Huber recently told Women's Wear Daily.
The line is that the Lands' End brand is all about "image transfer," which is to say it wants to expand its product line with more accessories—and possibly jewelry, cosmetics, even a travel agency. Lands' End has a new lighthouse logo and a web platform updated to spur sales in 170 countries.
Competition abounds in preppy, yet rugged clothing. The list of upstarts such as Bonobos and Best Made Co. is almost as long as the roster of established incumbents like L.L. Bean and Eddie Bauer. The upside, however, is that the look those companies cultivate—the shabby-chic yachtswoman, the refined lumberjack—is pretty on point these days, at least if the fashion bloggers crowing about Lands' End are any measure.
Distribution, meanwhile, might not be such a big challenge if Lands' End were to fetch a private-equity buyer or to spin off from Sears. The brand already has a thriving catalog business, and it could continue cranking up its Web sales and adding to the 14 independent stores it already operates.
"It's probably the most easily separated business Sears has," says Morningstar Analyst Paul Swinand.
If the tailwinds for Lands' End are so strong, why would Sears want to part with it? The company's struggles as corporate parent may be doing more harm than good. Being close to Diehard batteries or Kenmore dryers doesn't do much for an apparel line looking to burnish its fashion cred. "It's probably held back," Swinand says. "There is a scenario where this thing is so under-managed and under-invested in that someone out there is willing to pay a nice multiple for it."
At this point, all the Sears brick and mortar isn't really ballast for Lands' End; it's extra weight. Sears shareholders would probably be happy to cut it loose, providing they get a stake in the venture.