The Wreckage of Hurricane Sandy, One Year Later
By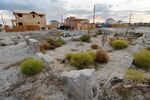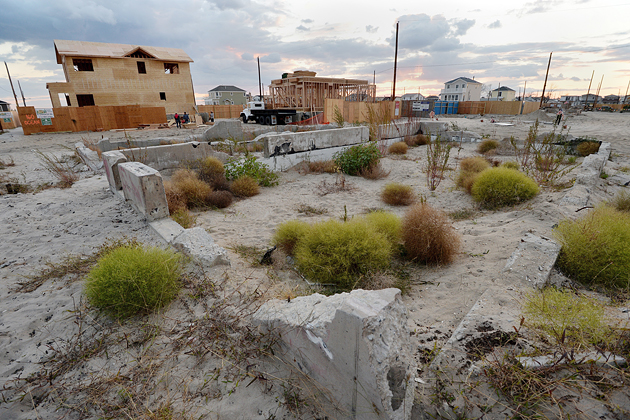 When Hurricane Sandy struck the East Coast a year ago, it swept away homes and left neighborhoods in ruin. It destroyed roads and flooded subways tunnels. It sank boats and damaged cars. It drenched paintings and shuttered museums. It left millions without power, disrupting hospitals and schools. When it was all over, Sandy had done $68 billion worth of damage.
Government agencies and private contractors have repaired much of the damage in the last year, but some of the storm's handiwork is still visible. On Staten Island, the houses of Oakwood Beach are being bought out and abandoned. Along the Jersey Shore and the Rockaway Peninsula, families are still waiting to move into permanent homes. In Manhattan, businesses are still displaced, and subway service isn't quite the same. Here's a closer look at some of the outstanding damage left by the storm:
Oakwood Beach, Staten Island: Many homes remain severely damaged or abandoned. The state plans to spend $160 million on a program to buy as many as 418 private properties in the area in order to create a buffer zone to guard against future storms. Most homeowners have applied to participate.
Breezy Point, Queens: About 350 homes were destroyed by the storm, including 130 which burned in a fire. As of August, fewer than 10 units were under construction, but many residents had filed plans to rebuild.
The Metropolitan Transportation Authority: New York's public transit system sustained $4.8 billion in damages. Although transit service has been restored, New York City Transit (city buses and subways) and Metro-North and Long Island Railroad (suburban commuter railroads) will continue to make Sandy-related repairs for years to come.
The G Train: The subway tunnels of the G line, which connects Brooklyn and Queens, were flooded during the storm. Salt water corroded rails and power cables, and critical systems for ventilation and signal communication were ruined. Service has been restored, but continuing repairs will cause intermittent service interruptions into next year.
South Ferry Terminal: The four-year-old transit terminal, which was funded as part of the rebuilding of lower Manhattan after Sept. 11, remains closed because of extensive structural and electrical damage. The old South Ferry Station has been reopened to restore train service to Manhattan's southern tip.
South Street Seaport Museum: The maritime museum, which was on shaky financial footing before the storm, remains closed for repairs. Its shops on Water Street are open.
The New York Daily News: The storm forced the newspaper's editorial staff to evacuate its main office in Lower Manhattan. The paper operated out of its printing facility in Jersey City until February, when it moved to a temporary location in Midtown Manhattan near Rockefeller Center. The staff expects to return to the downtown office later this year.
Ocean County, New Jersey: As of September, thousands of households remained displaced, according to the county planning board.
South River & Sayreville, N.J.: Roughly 1,000 homeowners have been targeted for voluntary buyouts because their properties are in areas prone to flooding. About 300 have started moving out.
Englewood Cliffs, N.J.: At Palisades Interstate Park, repairs to the Kearney House museum and other facilities are still underway.
Fortescue, N.J.: The historic Charlesworth Hotel and restaurant remains in disrepair and is still not taking guests.
Road to the Shore: Sections of Route 35, a highway used to access parts of the Jersey Shore, were wiped out by the storm, along with the highway's drainage system. The state broke ground on a reconstruction project in July.
Ellis Island: The main areas of the building reopened on Monday, with several floors still sealed off from the public. Some exhibits have been taken down and moved to a climate-controlled facility in Landover, Md. The National Parks Service says the museum aims to reopen fully by spring 2014.
Statue of Liberty: The statue was not damaged, but Liberty Island's buildings and docks took a beating. Boilers and electrical systems were flooded. The monument reopened to the public on July 4, but the main visitor dock is still being repaired.
Before it's here, it's on the Bloomberg Terminal.
LEARN MORE