Tapping the Xbox Generation for Innovation and Growth
Matthew Reilly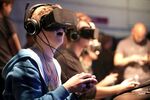 We often hear that young entrepreneurs will be a critical source for jobs and growth. Yet today's young innovators have different needs, priorities, and expectations, compared to those of the prior generation—whether in the way they create a new product or start a new business.
New research shows that a majority of entrepreneurs 40 years old and younger want to collaborate with established businesses, work with other companies in the ecosystem, and get more government help to grow their business.
This is the new co-dependency. As a generation weaned on video games enters the workforce, insights into how they view entrepreneurship are critical for established companies that are looking to tap this group for innovation. If employers fail to understand this generation's capabilities, they will struggle to make the most of its talents.
The Xbox Generation is creating ideas on top of existing platforms. Rather than addressing macro challenges that require risky and groundbreaking vision, much of today's technology innovation focuses on micro challenges. Niche software solutions are disproportionately biased toward improving convenience and making life fun, rather than trying to create new industries that transform the productivity of our work and lives. Uber, the app-based service that allows you to order taxis and private cars from your cell phone is a good example of a useful service, but it's not one that will change the fundamentals of an industry.
It is important for established companies to find new ways of embracing and supporting today's millennial entrepreneurs—not only to benefit them but to influence the types of projects they take on. Historic antipathy towards corporations seems to be evaporating among these entrepreneurs: Some 81 percent say they either currently collaborate with large companies or have plans to do so within the next two years.
It's too bad larger businesses are not reciprocating. This attitude needs to change, especially as corporations increase their reliance on outside partners to help foster the innovation they require. For some lessons in this new co-dependency, look at how pharmaceutical companies work with smaller biotech innovators.
This is not simply a case of big business being open to collaboration but about understanding how millennial entrepreneurs tackle problems. Larger enterprises need to create an ecosystem in which small enterprises and startups can tackle bite-sized opportunities that help solve larger, more complex challenges. By creating an environment in which a more collective approach is adopted, we have a greater chance of producing more sustainable job growth and innovation. That's good for everyone.