Plane Passengers Sleep Easier in 18-Inch Seats. Airlines Don't Really Care
by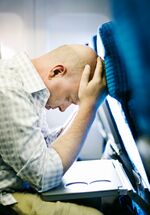 Anyone wedged into the middle seat at the back of a plane, midway through a 12-hour flight, already knows that coach-class seats aren't exactly roomy. Given global obesity trends, the average backside of the average airline passenger isn't exactly shrinking.
Into this airborne discomfort, Airbus is offering sleep research that finds an 18-inch seat width is more conducive to restful sleep than a seat even 1-inch narrower. "We need to focus on what coach is," says Kevin Keniston, an Airbus engineer recently named the company's head of passenger comfort, calling himself "the voice of the passenger."
Airbus says the number of flights exceeding 13 hours has recently jumped by 70 percent, to 41 a day. Given the expected growth of air travel—and the technological advancements that have allowed for ever-longer nonstop flights—Airbus is pushing for the 18-inch seat to become the standard on long-haul flights.
The European plane manufacturer does not design, build, or sell airplane seats. Nor can it dictate what types of seating its airline customers select for new planes—or how many of those seats they choose to squeeze into cabins.
Researchers at the London Sleep Centre conducted the study for Airbus and found that a seat width of 18 inches or more improved sleep quality by 53 percent for its test subjects, compared to a 17-inch space. "All passengers experienced a deeper, less disturbed, and longer night's sleep in the 18-inch seat," Dr. Irshaad Ebrahim of the sleep center said in a release. "They went from one sleep stage to the next as you would expect them to do under normal circumstances. Whilst in the narrower 17-inch seat the passengers were affected by numerous disturbances during sleep—which meant they rarely experienced deep restorative sleep. When it comes to flying long haul in economy, an inch makes a huge difference on passenger comfort."
The sleep research comes as airlines are cramming more seats into the coach cabins of their planes. More seats means more revenue. Ten-abreast seats on the popular Boeing 777—a workhorse of global airline fleets—is now standard, up from nine seats when the plane was introduced in the 1990s.
That means less width for the business end of an airplane seat. And while an 18-inch seat may be common on many new airplanes, United is flying its new 787 Dreamliners with a 17.3-inch seat in economy. LOT Polish, an early 787 operator, chose a 16.9-inch seat for economy.
In the perpetual battle between passenger comfort and airline economics, the poor cramped souls in the back shouldn't expect any space relief. But, as Emirates President Tim Clark told the Wall Street Journal recently, there's always "food and TV" to help become "mesmerized"—and to forget the tight quarters.
Before it's here, it's on the Bloomberg Terminal.
LEARN MORE