Hawaiian Airlines Turns to Asia for Growth and Finds Plenty of Risk
By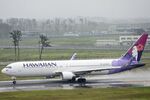 Flush with new jets, Hawaiian Airlines plans to slow growth next year as its newer markets mature and greater numbers of travelers from Asia consider a vacation to the Aloha State.
Catering almost exclusively to leisure travelers headed to Hawaiian beaches, the airline is in the middle of a transformation from a Boeing aircraft to an Airbus fleet. It will receive eight Airbus A330 long-haul jets in the next two years, giving it 22 of the planes, while it moves to retire its Boeing 767s by the end of 2015. The new jets have prompted Hawaiian to look broadly at new markets in Asia, Australia, and New Zealand, but they have also boosted its debt load.
The airline's capacity has grown some 65 percent over the past three years, according to Wolfe Research, yet per-share earnings have risen only 1 percent. Wolfe earlier this month downgraded Hawaiian Holdings to underperform.
"Some investors are waiting to see the full returns for Asia," Hawaiian's president and chief executive officer, Mark Dunkerley, said in an interview ahead of the airline's investor conference on Tuesday in Manhattan. The expansion into Asia has clearly been a success, he said, even with a weak yen making U.S. holidays more expensive. "From a company perspective, we're delighted."
In April 2014, Hawaiian will begin its first flights to Beijing, an initial foray to tap the growth of the middle-class Chinese consumer ready for a Hawaiian holiday. Chinese leisure travelers, Dunkerley says, are already the highest-spending tourists in Hawaii: "The opportunity for Chinese visitors to Hawaii is almost limitless." He declines to reveal what additional cities in China Hawaiian is considering for service. The company dropped its route to Manila this summer because of financial underperformance.
Hawaiian ordered 16 Airbus A321neo airplanes this March to replace the larger Boeing 767s it currently uses on its routes to the West Coast. The A321s, with 190 seats, will arrive between 2017 and 2020. It is also receiving six of Airbus's next-generation, carbon-composite A350s beginning in 2017.
The airline announced on Tuesday that it will add 40 new "extra comfort" seats in its Airbus coach cabins, with additional legroom and power plugs, an upgraded meal on international flights, and free access to in-flight entertainment. By June, Hawaiian says all its A330s will have the new seats.