Ender's Game Has Harrison Ford, Fanboys, and Good Reviews, and It Still Might Flop
By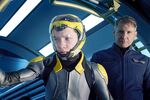 Ender's Game has a star-studded cast, earned solid reviews, and counts among eager ticket buyers the expectant fanboys who loved the classic 1985 science fiction novel. These ought to be the makings of a hit. Yet advance ticket sales have been mediocre for the Lions Gate Entertainment movie and social media buzz has been faint. This week, Boxoffice.com lowered its forecast for the film's opening weekend ticket revenue, from $30 million to $24 million. It projects Ender's Game will gross only $67 million in theaters before the film concludes its run.
The movie is expected to beat out this week's other new releases, including Free Birds, featuring animated turkeys, and Last Vegas, Robert De Niro, and Morgan Freeman's contribution to the bachelor-party comedy canon. Then it's likely to get overwhelmed by Thor, the Dark World, a Walt Disney sequel likely to attract waves of action movie fans. Boxoffice.com expects Thor to earn $95 million in its opening weekend—more than it projects for Ender's Game's entire run.
The only hope for Ender's Game may be the Twilight crowd. The film tells the story of a young boy named Ender who is being groomed to wage an apocalyptic interstellar war with aliens. A dystopic future in which children become warriors is the same broad, unsettling backdrop that made Hunger Games a hit.
Apparently, it's a pretty good film, which might encourage thirtysomethings and fortysomethings who read the book as kids. This morning, the movie was scoring a not-at-all shabby 72 percent on the Rotten Tomatoes "Tomatometer," which aggregates the opinions of professional critics. Variety Senior Film Critic Peter Debruge said the adaption "works," thanks, in part, to stunning special effects and a "white-knuckle finale."
The film allegedly cost more than $110 million, an investment Lions Gate mostly offloaded to OddLot Entertainment, a boutique that bought the original rights to Ender's Game, and to Digital Domain, James Cameron's special-effects company, which bought a 37 percent stake in the film for $17 million, according to the Los Angeles Times.
The studio, meanwhile, holds only a 25 percent stake in the picture. In a recent conference call, Chief Financial Officer James Keegan called that "a very low threshold … for our breakeven." Plus, Lions Gate's Hunger Games sequel will hit theaters on Nov. 22 and is expected to drum up $168 million in its opening weekend. That would be second only to Iron Man 3 for year-to-date returns.