With the Launch of Fusion, Univision Woos Young Viewers in English
By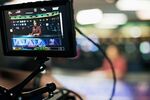 How do you get young people, long accustomed to getting news for free on the Internet, to change their habits and start paying to watch news on TV?
It's one of those questions that has long gnawed at the insecurities of TV news executives thinking about the future of their craft and, on occasion, inspired them to launch satirical TV news shows aimed at pulling in younger viewers. Sometimes it even inspires them to launch an entire new millennial-friendly network.
Such is the case again tonight when Univision, the long-dominant, Spanish-language broadcaster, unveils an English-language news and entertainment cable network aimed at Latino viewers in the 18 to 34 demographic. The new network, Fusion, is a 50-50 joint partnership with ABC and will make its debut at 6:57 p.m. tonight in some 20 million homes, or roughly one-fifth of the total pay-TV market in the U.S. The estimated price tag of the launch: $275 million.
Why English? Why pay TV? And why now?
Isaac Lee, the head of the news for Univision and chief executive officer of Fusion, explained the thinking behind the new network in a recent Bloomberg Businessweek feature story:
"If one year from now you turn on Fusion, and it looks for a second like it's Univision news, I should be fired. Right now our target viewers probably don't watch any news. … They watch The Walking Dead, Sons of Anarchy, and Girls. When they do watch news, it's a different type of news: Jon Stewart is news; The Colbert Report is news. What we have to do is understand what it is that this generation wants."
Univision executives are betting that what the next generation of Latino news consumers wants is programming in English, preferably with some humor thrown in. Not long ago, Fusion hired Billy Kimball, a former writer for The Simpsons, to serve as the new channel's chief of programming, and David Javerbaum, formerly of the Daily Show With Jon Stewart, as executive producer.
The launch comes at a critical time for Univision, which is considering going public soon even as the network currently faces a number of challenges. The lucrative retransmission fees that broadcast networks such as Univision collect from pay-TV distributors are now potentially in jeopardy, because of Aereo and similar services. At the same time, the Spanish-language marketplace in the U.S. in increasingly competitive, due to Telemundo, CNN en Espanol, and Mundo Fox. So far this season, according to The Wall Street Journal, Univision's prime-time ratings are down 13 percent in the 18-49-year-old demographic.
And so: onward to pay-TV and English. Fusion's premier will kick off tonight with a new show hosted by Jorge Ramos, a longtime Univision news anchor. "We saw that if we didn't adapt to the reality that the majority of Latinos will feel more comfortable with English than Spanish, then Univision will disappear in just a few years," Ramos told Businessweek in a recent interview. "It was really a matter of survival."