Why Emirates Is Always Buying New Airplanes
By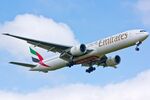 Another big air show, another massive airplane order from Emirates—possibly $30 billion for more long-range planes, according to media reports. With the Dubai Air Show less than a month away, and in Emirates's backyard no less, the company is poised to place what's expected to be a record-setting order for Boeing for new long-range airplanes.
"The scale of what we are contemplating is enormous," Emirates President Tim Clark told Bloomberg News; the company may order as many as 175 of Boeing's new 777Xs to replace older 777s in its fleet. Most analysts expect Boeing to formally unveil the 777X at the Dubai show, which begins Nov. 17. Last month, Lufthansa ordered 34 of the new planes, which are designed to be 20 percent more fuel-efficient than current 777 models. The first 777X is expected to be delivered in 2020.
A binge on new long-haul planes would be in character for Emirates, one of the world's fastest-growing airlines and the largest operator of Boeing 777s and twin-deck Airbus A380s. The company is striving to make its Middle East hub the new natural transfer point for flights between Asia and North America—wresting that status from Europe. The effort has not gone unnoticed by its European and American rivals, particularly Delta, which contend that the airline is subsidized by the Dubai government, giving it an unfair advantage. (Emirates is owned by the Emirates Group, which, in turn, is owned by the Dubai government.) The airline has repeatedly denied receiving any subsidies and says it is managed under the same financial rules as any other commercial airline.
World domination for premium air service is Emirates's main goal in building its huge fleet. Last month, the airline announced it would begin service to Boston in March, the airline's eighth U.S. city. In 2013, the airline initiated flights to Algiers, Stockholm, Tokyo-Haneda, and Warsaw, along with a new flight from New York to Milan, continuing to Dubai. In coming months, flights will begin to Clark International in the Philippines, Conakry in Guinea, Sialkot in Pakistan, Kabul, Kiev, and Taipei.
Citing a person familiar with the discussions, the Financial Times reported on Oct. 27 that Emirates is likely to order about 100 of the new 777s. The airline may also purchase more Airbus A380 superjumbos and advanced A350s, according to the newspaper.
Boeing's current record is a $22.4 billion order in February 2012 from Indonesia's Lion Air for 230 737s. That tally, however, is at the list price, and Lion probably didn't pay that much. Large buyers typically enjoy steep discounts from plane manufacturers.