pursuits
Why Burger King Won't Commit to Keeping Satisfries Just Yet
By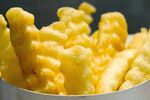 The French fry had a big month at Burger King. The chain put them inside $1 burgers, creatively called French Fry Burgers, starting in September, and weeks later came the debut of reduced-calorie, reduced-fat Satisfries, which took two years to develop.
Although the fry innovations brought in new customers who ordered other items, too, it still seem too early to gauge much impact during the past quarter, which ended with the last day of September. Burger King's same-store sales in the U.S. and Canada declined 0.3 percent, which the company blamed on "softness in consumer spending and ongoing competitive headwinds." Same-store sales have been down all year.

Executives touted the successful debut of Satisfries—Burger King's marketing push led to "over 1 billion media impressions" in one week, by the company's count—and said sales trends have been positive so far. Still, they seem hesitant to commit to making the product a permanent item just yet, describing sales so far as in line with expectations and keeping a wait-and-see outlook on the consumer response.
One trend, which Alex Macedo, executive vice president and president for North America, noted during the call, that could be a limitation is years of declining French fry sales across the industry. A study of large fast-food chains found that the number of servings of fries dropped 1.9 percent from 2006 to 2011 as diners sought healthier options. So it's possible that fries, even reduced-fat ones, could have a tough road ahead.
Macedo even told the Associated Press that Satisfries weren't going to "turn around the business." What the healthier fries could do, however, is help improve the chain's image in the long run, which is not an uncommon goal in the fast-food business these days.
Before it's here, it's on the Bloomberg Terminal.
LEARN MORE