Villanova School of Business Gets $50 Million Gift
Francesca Di Meglio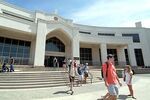 James C. Davis, a 1981 graduate of the Villanova School of Business, and his wife Kim are donating $50 million to his alma mater, the biggest gift to the university in its 170-year history, according to a university announcement.
The money is being earmarked to improve academic and career advising, increase internship and study abroad opportunities, perform technology upgrades, and provide scholarships.
Having started Allegis Group, a private staffing company, Davis told the Philadelphia Inquirer that he wanted to pay back Villanova for providing him a "values-based education." This is not a naming gift—one that results in a building or landmark being named for the donor—which is unusual for a donation of this magnitude, says Patrick G. Maggitti, dean of Villanova School of Business.
Davis's gift is part of the $600 million capital campaign that the university kicked off officially over the weekend. So far, Villanova has raised $280 million. Davis' gift is part of $90 million designated for the business school.
The money will make it possible for undergraduates, who are the primary students at the School of Business, to have access to professional academic and career advisers, Maggitti says. The advisers will help students make decisions about whether to double-major or which courses would be most appealing to the recruiters they are trying to attract, he adds.
Some of the money will be used to provide cash to students taking unpaid internships, making it possible for more students to get on-the-job experience. The school plans to make internships a requirement. Administrators, says Maggitti, also want to use the money to help more students study abroad. Right now, about 50 percent do so.
The funds will also be used to expand the Bloomberg finance lab at the school, and as a result, students will be required to become Bloomberg certified. (Bloomberg LP owns Bloomberg Businessweek.) The money will also allow the school to fashion classrooms with 80-inch touch screens and six smaller screens for linking to other classrooms off-site or mirroring what one student or professor has on his or her computer screen. Already, this technology was piloted in one classroom, and Maggitti says professors are fighting over the chance to use it. The gift would allow the school to feature the equipment in multiple spaces.
Additional funds will be used for minor capital improvements to enhance the current facilities, says Maggitti, and to provide scholarships to gifted students, who have other options and would consider Villanova more strongly if they received financial help. Also, Villanova will beef up its faculty roster to include more professors focused on teaching as opposed to research.
Join the discussion on the Bloomberg Businessweek Business School Forum, visit us on Facebook, and follow @BWbschools on Twitter.