The Woman Behind the Men Behind the Financial Crisis
By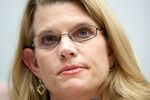 Most of the women associated with the financial crisis have played the role of Cassandra or members of the cleanup crew, rather than of perpetrator—Massachusetts Senator Elizabeth Warren, former Federal Deposit Insurance Corp. Chair Sheila Bair, and bank analyst Meredith Whitney come to mind. But that changed last week with the conviction of Rebecca Mairone, an executive at Bank of America who was found liable for selling thousands of bad mortgages to Fannie Mae and Freddie Mac.
After several years of criticism for not seeking accountability on Wall Street for the actions that contributed to the 2008 economic meltdown, the government appears to be playing catch-up, with multiple settlements and investigations unfolding, including a tentative $13 billion settlement with JPMorgan Chase, which includes $5.1 billion related to sales of bad mortgage bonds to Fannie Mae and Freddie Mac. But so far, at least, mostly companies, rather than individual executives, have been named in the suits.
Mairone, a "midlevel executive" and a 46-year-old single mother of a 14-year-old daughter, ran a program nicknamed the "hustle" within Countrywide Financial, the mortgage originator Bank of America took over in 2008 and whose problems it now owns. The program allegedly pushed mortgage processors to jam through mortgage applications aggressively and with little regard to whether borrowers could pay the money back.
According to the New York Times, other women at Bank of America liked and admired the well-dressed, career-driven Mairone, and saw her as something of a role model within the high-testosterone banking world she inhabited. One person who did not, apparently, was Edward O'Donnell, a male underling whom she declined to promote within the company. It was O'Donnell who brought a whistle-blower case against Mairone to the government, for which he stands to earn a $1.6 million reward.
In the end, Mairone's conviction is unlikely to placate government critics who argue that few high-level executives have been held to account for the crisis, while more junior traders and loan processors are the ones who end up paying fines or even facing jail time. Angelo Mozilo, the chief executive officer of Countrywide and Mairone's boss, who cashed in $121.5 million in stock in 2007 and was paid $22 million in compensation, has so far only paid a $67.5 million fine to the U.S. Securities and Exchange Commission (Countrywide picked up $20 million of it). Mairone was paid a bonus of $1.2 million in 2007 and is likely to face a much higher fine on a proportional basis.
Throughout the case, Mairone has maintained her innocence, arguing that she was doing her job. "We are not going to stop fighting for Rebecca," Mairone's attorney, Mark Mukasey, said after the verdict. "She's a woman of integrity, ethics and honesty. She never engaged in any fraud because there was no fraud. We're going to fight on."
Before it's here, it's on the Bloomberg Terminal.
LEARN MORE