The Surprisingly Simple Retail App That Could Juice Holiday Revenue
By
Traditional retailers in the U.S. have a slick, new app this morning. It's the latest bid to stave off showrooming and cultivate customer loyalty, but it doesn't scan QR codes, track browsing, or dole out reward points. It's not even all that interactive.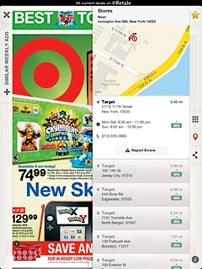 The app, dubbed Retale, simply digitizes weekly circulars—those thin glossy sheets of sale prices that come tumbling out of the Sunday newspaper. Circulars are still surprisingly effective in an e-commerce world. The Sunday newspaper? Not so much. Circulation has dropped steadily in the daily news business, and advertising inserts don't transfer to the Internet as easily as articles.
"Retailers are committed to this, and circulars can still drive sales; the only thing that's challenged is the distribution model," says Christian Gaiser, the chief executive of Bonial International, which made the app.
That's not to say circulars can't be found online already; they just are tricky to track down in the same place. This is the beauty of Retale. It's a shockingly low-tech offering in a forum dominated by crowdsourced recommendation engines, Angry Birds, and targeted advertising. It simply presents products and prices and does a decent job of recreating the slick waterfall of print typically spilled around an easy chair on Thanksgiving Day.
Not surprisingly, the app is born from a media company, Axel Springer Verlag, the Berlin-based publisher that owns Bild, Germany's bestselling paper. To date, Springer has poured almost $70 million into Bonial, the business unit behind Retale.
There are some technological advances, albeit minor ones. The app can serve up circulars based on a user's location, along with a map display. It can also be programmed to sound an alert when a new circular is added or a certain product is featured.
Just don't try tapping on it to buy something—say, this spectacular child's unicorn costume (Target $30.99). That would be counterproductive to what circulars have always done well: lure people into stores where they buy a bunch of things they never would have considered when staring at a screen.
"It's a Holy Grail for retailers," Gaiser says. "It has the potential to be as big as the online classifieds space."
Versions of Retale have already been downloaded 12 million times in Brazil, France, Russia, Spain, and Germany—where it was initially launched five years ago. According to Gaiser, about one-third of the 5 million users in Germany cue the app to alert them to new circulars.
The U.S. version unveiled this morning features 17 retailers, including such heavyweights as Macy's, Radio Shack, and Toys R Us. The app is free to consumers, and the companies pay every time their particular circular is opened. Springer hopes to have 25 stores on the platform by Thanksgiving, the Super Bowl for the circular game, and up to 50 by the end of the year.