Slush and Rain: Give 'em the Boot
by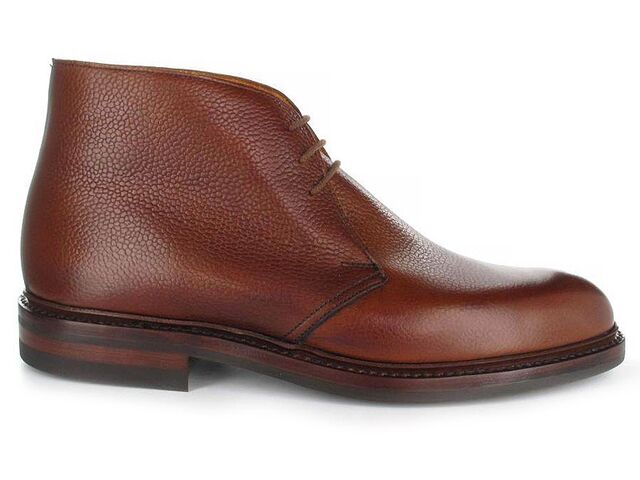 Dashing to the office in running shoes and changing into heels -- in theory, men have it easier than women. But when the weather gets nasty, even our dress shoes are inadequate.
There's a compromise in what is widely, if somewhat nonsensically, called a dress boot. At this point its definition has broadened to include any boot high enough to stave off minor slush or rain but low enough that it looks decent with a blazer.
"They come up just over the ankle, and some of them have cap toes or wingtips," says Jack Lynch, president of E. Vogel in New York. "But to me that's more a look than a function." The big difference is soles, he says: "In inclement weather, a lot of people will wear something that doesn't have your typical leather welted sole." Instead, dress boots use rubber. For the uppers, water-resistant leather, treated with either silicone or oil before the shoe is made, is often used.
Dress boots can be affordable. On the lower end, in the (sort of) work-appropriate section, you have the Ranger Mocs from L.L. Bean, which sell for $99. But the sole is flat and slick, so it's probably not a great shoe for an icy day. In the same price range is the classic chukka boot from Clarks for $119. If you waterproof these with silicone spray, they'll hold up in a light rain, but when snow comes around, their flat rubber sole and loose fit can leave you longing for Sorels or a cab.
Then things get pricey quickly. Prada makes a chukka boot with a leather sole for $525. Tod's makes ankle boots with a rubber sole for $545, though the embossed T on their sides leaves something to be desired. And Crockett and Jones, the British shoemaker, makes a similarly sized boot, the Chepstow , with a rubber sole that has real treads. But that level of taste doesn't come cheap. The boot retails for $625.
Depending on what you do for a living, you can probably get away with the Crockett and Jones in a proper suit, maybe Bean and Clarks if you're a creative, and Prada and Tod's in design, architecture or tech. You can wear any of these with a blazer and slacks.
Caution: "These shoes are water-resistant, not waterproof," Lynch says. "To make it completely waterproof you have to do it from the inside out, with Gore-Tex lining and taped seams."
But that's not what a $500 or $600 boot is for. "A lot of my customers say 'water-resistant leather is all I need,' " Lynch says. "They're not shoveling snow in them."

James Tarmy reports on arts and culture for Bloomberg Muse, the arts and leisure section of Bloomberg News.

Before it's here, it's on the Bloomberg Terminal.
LEARN MORE