Shinzo Abe Is the World's Best Car Salesman
by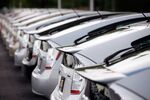 With the end of the year in sight, Toyota has again surged into the lead in the race for the car-sales crown. The Japanese giant said this morning that it sold 2.5 million vehicles in the recent quarter, a tally that pushed it beyond both General Motors and Volkswagen.
In the first nine months of the year, Toyota sold 7.41 million cars and light trucks, compared with 7.25 million at GM and Volkswagen's 7.03 million. Here's a look at how close the companies are as they enter the final two months of the year:

Consumers haven't cooled on Toyota's world-beating Camry. And its Prius line continues to collect accolades. Still, the company's best salesman this year may be Prime Minister Shinzo Abe, whose aggressive stimulus plan has weakened the yen and boosted exports for goods made in Japan. The yen has fallen about 11 percent against the dollar this year.
GM last won the sales race in 2011 when Toyota operations were shredded by a tsunami. Last year, the Japanese automaker was back in front with 9.75 million vehicles sold, vs. 9.29 million at GM.
Before it's here, it's on the Bloomberg Terminal.
LEARN MORE