Samsung Bought Almost Every Screen Anywhere Near an NBA Game
by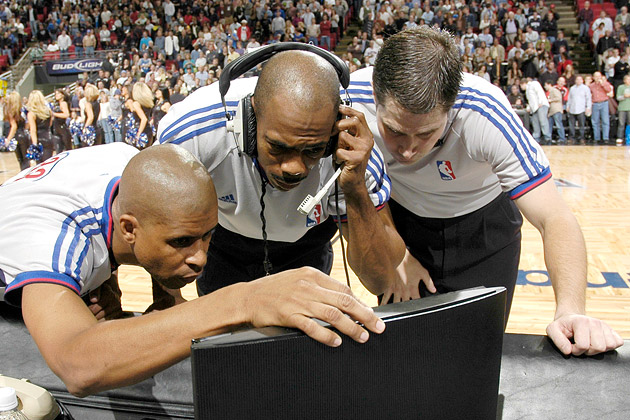 The NBA is making Samsung its official supplier for handsets, tablets, and pretty much any screen of any size.
Samsung Electronics will be showing up all over NBA broadcasts and events, from the Summer League in Las Vegas through the Finals. Every referee will get a Samsung Galaxy Note 10.1 tablet for rewatching plays at halftime and between games. And the league will use Samsung technology for reviewing calls courtside during games. The deal, according the Wall Street Journal, is for three years and $100 million. The league declined to comment on those figures.
NBA fans are already accustomed to seeing plenty of Samsung. During the last season's finals, actor Jesse Williams popped up on ABC broadcasts holding a microphone in one hand and a Galaxy smartphone in the other, telling viewers to check out his sideline pictures. During halftime of Game 5, Samsung aired a three-minute ad to tease its exclusive early release of Jay-Z's new album. And immediately after the Miami Heat prevailed in Game 7,the broadcast aired a spot congratulating LeBron James, who we had already learned likes to take his Galaxy to the barbershop before games.
The new deal cements and expands the partnership. "It's a big price tag for a league sponsorship," says Jim Andrews, vice president for content strategy at sponsorship consultant IEG. "But I don't think it's unrealistic." As with the Jay-Z deal, Samsung gets access to content—in this case, "daily video recaps of games, expert analysis and commentary"—that can help entice hardware buyers and give them reasons to be loyal. The brand also borrows a bit of cool from the U.S. sport that produces it most. "As opposed to the NFL or MLB," says Andrews, "the NBA is a little bit hipper, cooler, and more on trend. It appeals to a little bit younger audience."
Cool is a valuable commodity when competing with a company that gets lines around the block for every new phone. "Samsung is trying to hitch itself to sport in general," says Eric Smallwood, an analyst at Front Row Marketing Services. "It's an opportunity to contrast with Apple, which hasn't really focused on sports." The pitch, in essence, is that Apple is for fanboys, Samsung is for fans.
Hopefully Samsung can bring a little bit of smooth to the NBA's clunky in-game review process. As it stands, when referees want to double-check on out-of-bounds call or last-second shot, somebody props up a TV monitor resting face down on the scorer's table to show them the replays. It's an established process, but it looks slapdash every time. According to Smallwood, it happens 1.2 times per game and opens up a minute-long product placement window worth about $5 million across the league's regional and national broadcasts.
The NBA says no changes are planned yet, but the league is looking into it for the future. A tablet, by Samsung or anybody else, would seem to be just the thing.
Before it's here, it's on the Bloomberg Terminal.
LEARN MORE