Remembering Lou Reed, Rock-and-Roll Bard, Career Counselor
Paul M. Barrett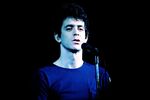 Lou Reed, who died Oct. 27 at the age of 71, left a huge legacy as rock-and-roll seer, bohemian icon, and curmudgeon of colossal proportions. What's less appreciated is his wisdom as a career counselor.
Recalled for walking on the wild side in his musical stylings and narcotic habits, Reed also provided a model of self-definition in one's life and work. He evolved on his own terms and in his own time: from Warholian troubadour to heroin-addled androgyne, to motorcycle-riding rocker, to metal-head distortionist, and on and on and on.
The New York Times and many other observers have recalled Reed as an "outsider" who had a "dark lyrical vision" of everyday life. And it's true that the narrators of Waiting for My Man, Heroin, and some of his other best-known songs did not hew to the straight and narrow. The speaker in his masterpiece Sweet Jane watches a street-corner parade of ordinary working stiffs and declares: "Me, I'm in a rock-and-roll band. Huh!" Despite modest talent as a drummer, I put together a college cover band largely so I could play Sweet Jane in public. I, too, was a rocker, like my idol Lou.
Listen more closely, though. The narrator of Sweet Jane doesn't condescend to the workaday world. As I've written elsewhere (pretentious rock criticism alert!): "The song seems to question whether the rocker's pose is any more real or original than that of Jane, who is a clerk, and her banker boyfriend, who together save their money and listen to classical music. We all choose parts to play, Reed suggests. 'And anyone who ever played a part / They wouldn't turn around and hate it.'"
My bandmates and I, the Corporate Empires, were pretty conventional, even when we were 19 and pretending otherwise. Still, I learned a lesson from Lou: Do your thing the way you think it should be done. I have never felt more like myself than I did at Saturday-night beer parties in 1980, banging on my four-piece Ludwig kit, playing Sweet Jane.
Before it's here, it's on the Bloomberg Terminal.
LEARN MORE