Obamacare's Lousy Launch Still Might Beat Medicare's Drug Plan
By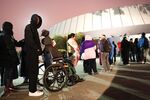 Healthcare.gov's disastrous first month earned the mockery of Saturday Night Live this week, but by one measure, applications for insurance plans on the site are actually outpacing America's last big health-care expansion.
People are signing up to buy health coverage, effective on Jan. 1, at a faster pace than Medicare patients who enrolled in prescription drug plans when that benefit was added eight years ago, according to an analysis by consulting firm Avalere Health.
After weeks of keeping the number secret, the White House revealed last week that 700,000 Americans had applied for health plans on healthcare.gov and its sister websites run by states. The first year sign-up period that started on Oct. 1 runs through March 31, 2014, and by that time 7 million people are expected to have bought insurance through the exchanges, according to the Congressional Budget Office. So only a tenth of them have even applied for coverage so far, and not all those applicants will necessarily buy plans.
Compare that to the first months of the Medicare drug benefit known as Part D, which also had a difficult start. People had a similar six-month window to sign up, from Nov. 15, 2005 to May 15, 2006. Only one-tenth of the 10 million people who signed up in that first year bought policies by Dec. 1, in time for them to kick in for the beginning of 2006, according to Avalere's analysis.
Using this as a benchmark for Obamacare, the White House would have until Dec. 1 to enroll 700,000 people (one tenth of the first year goal) for 2014 coverage. By that measure, it might be ahead of schedule. Avalere's point is that many people waited until the last minute to sign up for Medicare drug plans, and we may see the same pattern for the Affordable Care Act health plans.
Measuring sign-ups from the start of the enrollment window makes Obamacare's opening appear much rockier. From that perspective, Medicare's drug plan enrolled a million people in two weeks, a period that included the Thanksgiving holiday weekend. Compare that to the nearly four weeks it took for the ACA exchanges to get 700,000 applications, with many would-be buyers mired in website failures.
If those persist, Americans might heed the advice of Kate McKinnon-as-Kathleen Sebelius: Buy a plane ticket to Canada, where prescription drugs are cheaper:
Before it's here, it's on the Bloomberg Terminal.
LEARN MORE