Meet the Boston Secretary Who Might Stop a Mega Casino
Fears that gambling will enrich the owners and spoil East Boston
Alexandra Dean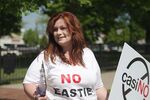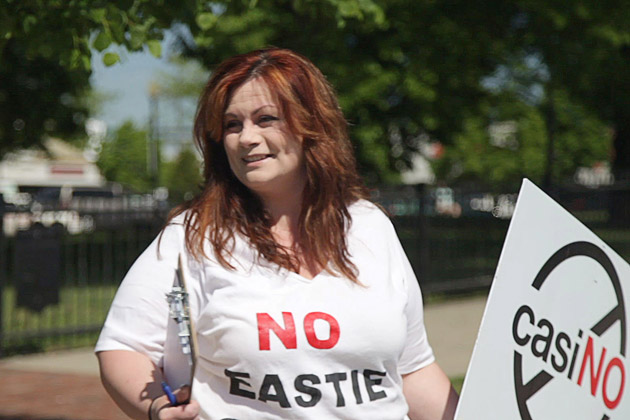 Celeste Myers sees herself as a modern-day Paul Revere, warning East Boston about imminent invasion. This time it isn't the British coming, but companies planning a $1 billion gaming resort in her hometown.
During the day, the 42-year-old is a secretary at a local bakery, but for the past five years, after work and on weekends, she's become a tireless unpaid campaigner for her nonprofit, No Eastie Casino, which argues the plan will damage East Boston. "I'm all for jobs," Myers says. "I'm all for improving employment. But it needs to be an improvement, it needs to be better than what we have."
Traditionally working-class, with one-quarter of the population living below the poverty line, East Boston has slowly been rebounding in the wake of the recession. Myers fears a casino will hurt the local economy by creating gambling addictions, stealing profits from local businesses, and making the area less desirable to the recent influx of young professionals.
Her cause got an unexpected lift earlier this month, when the owner of the casino site, racetrack operator Suffolk Downs, which had chosen Caesars Entertainment to operate the planned casino complex, announced it was ending that partnership. It cited allegations raised by Massachusetts Gaming Commission investigators about a Caesars subsidiary's connections to the Russian mafia. Now, Suffolk Downs is looking for a new partner but is still going forward with its plans.
On Nov. 5, despite the split with Caesars, residents of East Boston will vote on whether they want a new casino there. If they're in favor of the casino, Suffolk Downs plans to renovate its old racetrack, which sits on 182 acres on the north end of East Boston, and transform it into a resort that includes a 200,000-square-foot casino, a new racetrack, a luxury hotel, shops, and restaurants. Boston Mayor Thomas Menino threw his support behind the Suffolk Downs proposal after Massachusetts Governor Deval Patrick backed three casino licenses and one slots parlor for the state in 2009. "I don't think casinos are always right or always wrong," Patrick said in an interview last winter.
Caesars had projected the casino would gross $1 billion annually, bringing Boston $52 million in annual tax revenue, figures that some experts dispute in a recent Boston Globe article. Myers says $52 million is a drop in the bucket compared with the money East Boston will have to spend dealing with heavy traffic leading into the casino. A 2009 local study estimated the area needed $500 million to improve East Boston's existing traffic problems, significantly more than the $45 million Suffolk Downs pledges to invest in mitigating the jams the casino would create.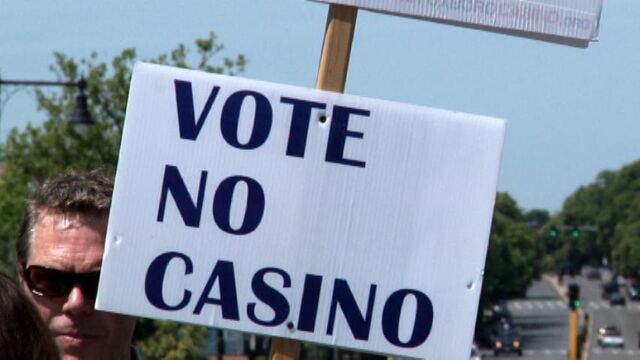 The racetrack company is also pledging to create 4,000 jobs when it opens. Because of news reports about Atlantic City casino workers signing up for food stamps, Myers is worried the promised jobs won't pay well. Interviews with dealers and union representatives of various casino companies show most casino employees get paid minimum wage and depend on tips.
In an e-mail response addressing Myers's criticisms, Chip Tuttle, chief operating officer of Suffolk Downs, says the plan will "provide unprecedented benefits to our host communities." He cites the proposal's "combined estimated annual payments of $67 million to Boston and Revere," its road and infrastructure improvements, and its "good-paying permanent jobs with a preference for local residents." He also notes its goal to "spend $50 million annually on goods and services with local businesses."
Hundreds of neighborhoods across America now face the same dilemma as residents in East Boston, who have to figure out whether a casino will rain money on their community or drain it. During the recession, governors in dozens of states came under pressure to find revenue without raising taxes, and for many, casino projects became the answer. As a result, more than 50 new casinos have popped up across the country since 2008, and more are proposed on ballot referendums this November, including seven casinos in New York State.
In 2006, Pennsylvania introduced casinos to raise tax revenue, and it has become the poster child for others. Its 11 casinos produced nearly $1.5 billion in tax revenue in 2012, according to state data (PDF), and casino proponents argue that amount eclipses any costs the casinos could incur.
Alan Mallach, a senior fellow at the Brookings Institution, isn't persuaded. In 2010 he wrote a report (PDF) for the Federal Reserve Bank of Philadelphia calculating the financial impact of Pennsylvania casinos on their host communities. "At the local level, it gets pretty tough to tell," he says: In Pennsylvania, for every dollar the state gets in tax revenue, it only passes 7¢ back to the host city. "That's not my idea of a fair split," he says. To figure out whether the community will reap benefits from the casino, Mallach says it has to assess the quality of the jobs the casino promises, and subtract from that the casino's social and economic costs, especially the cost of compulsive gambling.
At a meeting held in a church basement in June, Myers introduced Mike Russo, a tall, bearded East Boston resident and founding member of No Eastie Casino, who walked the audience through the latest research he assembled on problem gambling. He said the proposed development was likely to lead to gambling addiction in 4 percent of the surrounding population, or 5,000 residents. "You're more likely to know somebody with a compulsive gambling problem than somebody that's employed at the casino," he told the audience, eliciting gasps. In an April interview, Caesars Chief Executive Officer Gary Loveman acknowledged that some casino visitors suffer from gambling addictions but noted that most studies show only 2 percent of a population usually develops a gambling addiction.
University of Las Vegas Professor Emeritus William Thompson says gambling addiction grows more severe the closer a person lives to a casino. "The amount [of people with gambling addictions] doubles when you put a casino within 50 miles," says Thompson. According to his research, each additional pathological gambler costs his community around $20,000 a year through criminal activity, job loss, and productivity loss. Problem gamblers also suffer high rates of bankruptcy and suicide, the costs of which are much harder to tabulate. "That's a loss for the whole economy," he says, and some communities find the math doesn't add up. "How much are you making? Maybe $50 million tax money. But, yeah, you're losing $100 million a year," he says.
That's the kind of message Myers is bringing to East Boston, but she's facing an uphill battle. No Eastie Casino only has 24 volunteer members and raised just $10,000 last year in local donations. Caesars and Suffolk Downs spent $1 million on pro-casino group Friends of Suffolk Downs last year, and enlisted several local unions to get their members to turn out on weekends in support of the casino. Before the split, polls by the Boston Globe and Suffolk University indicated Boston was essentially divided, but leaning toward a "yes" vote. Myers thinks the mafia allegations will tip the vote against Suffolk Downs.
If Suffolk Downs wins the referendum, the Massachusetts Gaming Commission will decide whether to award the casino license to it, or to Wynn Resorts' proposed casino in Everett, which just won referendum approval there. Foxwoods is also trying to win a referendum in Milford, and if it's successful, the gaming commission will have three venues to choose from when awarding the single Greater Boston gaming license.
Myers has faith East Boston will reject Suffolk Downs's plans. "This is a historically activist community," she says. "People have stood on the runways, they've blocked tunnels. All we have to do this time around is check the box."
BOTTOM LINE -
The bottom line: Many East Bostonians believe the benefits of a casino will be outweighed by problems for businesses and the community.
Before it's here, it's on the Bloomberg Terminal.
LEARN MORE