Gulf Oil-Spill Fraud Accusations Hit Alabama Official's Family
Paul M. Barrett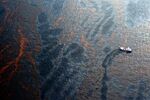 Ever since its deep-sea well in the Gulf of Mexico blew up in April 2010, killing 11 rig workers and sullying the region's coastline, BP has said it would pay billions to clean up the mess and make victims whole. So far, those payouts total more than $25 billion, with much more to come. Even with all that money floating around, though, some Gulf Coast residents have viewed the calamity and the company's response as a chance to grab more than their share of BP spill bucks—including a new case involving relatives of a top Alabama law enforcement official.
Federal officials in Mobile made public an indictment last week of seven people accused of receiving thousands of dollars in fraudulent claims from BP, according to the Associated Press. Four of the defendants are relatives of Alabama's secretary of Law Enforcement and Homeland Security, Spencer Collier. The state official wasn't implicated in the alleged rip-off, according to Dennis Knizley, a lawyer for Harvey Collier, Spencer Collier's brother. "I just think these people were simply involved in the seafood industry or the water-related industry in that area and happened to be who was arrested in this case," he added. Alabama Governor Robert Bentley, who appointed Collier, backed his aide in a written statement, vowing to "continue to support Spencer Collier at this difficult time."
The Alabama indictments were unveiled as a court-appointed special master, former FBI Director Louis Freeh, continues a separate investigation into allegations of improprieties in the administration of a multibillion-dollar BP claims settlement designed to compensate business and economic harm. In early November, a federal appeals court in New Orleans will review the legitimacy of that settlement.
Even though BP originally agreed to the pact as one element of its post-spill reparations, the company has filed a brief telling the appellate court that unless changes are made in how claims are evaluated, the deal ought to be killed. That would almost certainly lead to more litigation.
On a parallel legal track, a federal judge in New Orleans continues to preside over a sprawling trial in which the federal government, a coalition of plaintiffs' attorneys, and BP's former contractors on the ill-fated Gulf well are collectively arguing that the British-based oil company bears the lion's share of the blame for the disaster. At stake in that trial are billions of dollars in additional potential damages for which BP could be liable under U.S. environmental laws.
While it initially took a conciliatory approach to sorting out its manifold legal woes in the wake of the spill, BP has signaled that it feels it has been exploited and now will shift to a more aggressive strategy. The legal wrangling appears likely to continue for years to come.
Before it's here, it's on the Bloomberg Terminal.
LEARN MORE