Four Questions Sebelius Needs to Answer About Healthcare.gov
By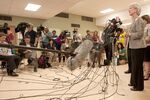 U.S. Health and Human Services Secretary Kathleen Sebelius will appear a House committee on Wednesday to answer questions about the troubled launch of healthcare.gov, the federal health-insurance exchange website. It's likely be the week's most scrutinized event in Washington, and Republicans aren't expected to treat her gently as they probe for explanations for why nobody has been able to purchase insurance on the site, a key component of Obamacare that was supposed to be as easy to use as Amazon.com.
The inquisitors on the House Energy and Commerce Committee will be out for blood. Republicans have already accused Sebelius of stonewalling their requests for information, and she further annoyed them last week by declining an invitation to make herself available at a similarly themed hearing with an ominous title: "Implementation Failure: Didn't Know or Didn't Disclose?"
Sebelius's apparent reluctance to testify sooner in such an unfriendly environment is understandable. She's likely be questioned sharply by Republicans who would like to delay the launch indefinitely, and Democrats who must run for reelection next year may not be much kinder. But even some Obamacare supporters feel Sebelius hasn't been forthcoming enough about the website's botched debut.
Here are four questions we'd like to hear her answer:
1. Why stick to the Oct. 1 launch deadline when the site had hardly been tested? At last week's hearing, Cheryl Campbell, senior vice president of CGI Group, the private IT contractor responsible for much of the site, complained that her company only had two weeks to test it before the launch. "We could have liked to have months," she lamented. Julie Bataille, a spokeswoman for the HHS's Centers for Medicare and Medicaid Services, which was overseeing the site's development, didn't disagree: "Obviously, due to the compressed time frame, the system wasn't tested enough." Given the importance of healthcare.gov, Sebelius needs to explain why the Obama Administration didn't delay the launch for another month so the contractors could ensure the site was ready to go live.
2. Why delegate the authority over the website? In a page one story in today's Wall Street Journal, Christopher Weaver and Louise Radnofsky describe in excruciating detail how problems at the Centers for Medicare and Medicaid Services contributed to the website's botched launch. The site's birth was reportedly marred by staff turnover, bureaucratic infighting, and the absence of clear leadership at the agency. In hindsight, entrusting this role to the Centers for Medicare and Medicaid Services seems like a dreadful error. Shouldn't Sebelius have supervised the process more directly to keep it from getting mired in such a bureaucratic morass?
3. What makes anyone in the Obama Administration sure healthcare.gov will be up and running soon? President Obama has now promised that the website will be fixed soon. Yet malfunctions continued Sunday, and Bloomberg News reporter Alex Ways this morning noted that major glitches remain: "The data services hub, a system that supplies tax information to websites run by the U.S. and 14 states to sell medical coverage, was unavailable yesterday evening after a malfunction at the center that hosts it." This is a crucial function, because the government needs to know the income levels of its enrollees so it can determine whether they are eligible for Medicaid subsidies. Given the website performance so far, why should the public expect the situation to turn around in the near future?
4. Who are the "best and the brightest" of Silicon Valley being recruited by the White House to assist in the salvage effort? Obama says executives from some of the nation's most respected technology companies have offered to help get the site up and running. This is reassuring. But the administration has yet to reveal their names. Perhaps not surprisingly, some people are skeptical that any private-sector leaders would want to dirty their hands with such a mess. "The system is already built, it's already a disaster, so you're going to bring in Silicon Valley to do what?" Marc Andreessen, a prominent venture capitalist, told Politico. "You could get Mark Zuckerberg, Larry Page, and Jeff Bezos on a plane, but what are they going to do at this point?"
Good question. Someone should ask Sebelius on Wednesday. Hopefully, she'll clear up that mystery along with a lot of others related to healthcare.gov's difficult debut.
Before it's here, it's on the Bloomberg Terminal.
LEARN MORE