Apple's Earnings: No Fireworks, Not Yet
by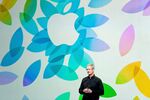 "Oh, O.K."
That seemed to be the market's reaction to Apple's not-terribly dramatic fourth-quarter earnings report on Monday. (Apple's fiscal year ends one quarter earlier than the calendar year.) The company posted numbers that were more or less in line with analysts' estimates; shares, which closed at around 530 a share on Monday, fell as much as 5.1 percent after hours, before bouncing back to a value of around $528.
So there were no blockbusters. Not this quarter, anyway. With only a month's worth of sales of new iPhones—they hit retailers on Sept. 20—and no new iPad sales off last week's announcements, Apple didn't offer a gotta-have-it product in its lineup for the better part of the quarter.
To get a better idea what's going on in Cupertino, Calif., look at what Apple is doing with its products: More than at any other time in recent memory, the company has been laying the groundwork for the future, and it's been doing so in plain sight.
The new iPhone 5S, for example, contains a lot of technology that isn't being put to full use. That 64-bit architecture is nothing to sneeze at: As it did for the desktop, 64-bit will dramatically increase computing power once the right software has been written for it.
And that Touch ID fingerprint sensor? Do you really think Apple went through all the trouble to build a fingerprint sensor—along with the considerable effort of securing that sensitive data all the way down to the processor—just so you don't have to enter a four-digit PIN to unlock your phone? Come on, now.
Tim Cook was psyched to talk about that M7 motion co-processor that's in the iPhone 5S, wasn't he? Now, many of the functions that used to require the main chip to fire up (which has nasty effects on battery life) can instead be handled by this dedicated processor. That has serious implications for all kinds of apps, which may want to use motion data in a more constant way to bring new services. I'm not just talking about fitness apps. What if Apple's own Maps app used the M7 chip to know you were in a car? What if TripIt knew your plane had just landed? All hypothetical, at this point, as software companies figure out what they can and want to do with this new hardware.
Then there's iBeacon, Apple's location-based technology. The new tech uses Bluetooth Low Energy to get hyperaccurate positioning data so you can receive relevant information and offers from retailers and other places you travel through. It's still in the pilot stage, but iBeacon is poised to do for retail what Near Field Communication and Google Wallet promised, but failed, to deliver.
Heck, even giving away OS X and iOS 7 and iLife and iWork for free has payoffs down the line. Getting so many people onto your latest operating systems has benefits for Apple and its app developers. It reduces the dreaded "fragmentation" problem that still plagues Android, by which some users are on one version of Google's mobile OS while others remain on an older one and a third group is on an even-more-dated version. Remove some of that friction by making the cost zero, and you get more people on the same platform: Five days after iOS 7 was released, 64 percent of all users were on it, says Apple. That's 64 percent of your users on the most modern, safest OS you have. Apple likes that. More importantly, developers like it and will therefore continue to develop for iOS first.
So no blockbusters today. But that's because today's earnings report and conference weren't really about this quarter. Apple's playing a longer game than that.
Before it's here, it's on the Bloomberg Terminal.
LEARN MORE