A Downturn for the World's Most Expensive Property Market
By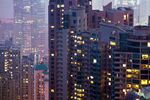 Hong Kong is experiencing something unusual: a slumping property market. The city is the world's most expensive place to rent office space or apartments and has enjoyed a lengthy run of rising prices, with occasional hiccups like the SARS epidemic in 2003 and the onset of the global financial crisis in 2008. Once investors got over the initial shock of that crisis, the market has been on a tear, with prices more than doubling since the end of 2008.
Now the good times are ending. Residential transactions haven't been this slow since Bill Clinton was in his first term and Monica Lewinsky was still just an obscure intern. As Bloomberg News reported last Friday, the three-month average of residential transactions fell to just 3,693 units last month, the lowest since at least 1996. Even during the dark days of the SARS outbreak, there was more activity in the Hong Kong market.
Demand is already soft, with prices falling about 2.7 percent since March, but Hong Kong-based Barclays analysts Paul Louie and Zita Qin say this is just the beginning. "We believe the property market is about to enter its first real downturn since 1998 and we expect home prices to drop by at least 30 percent by the end of 2015," they wrote in a report published today. With home prices up 111 percent since the end of 2008, "we believe there is significant scope for owners to take profit on their property holdings," Louie and Qin wrote.
It's not just residential prices that are going to plunge. They predict "a synchronized downturn," with a 20 percent drop in office prices and a flat market for retail properties.
There's no simple reason like SARS or the Asian financial crisis to explain this drop. Fears that the U.S. Federal Reserve would begin to reduce its bond-buying program caused plunges in India, Indonesia, and other countries with stock markets that had benefited from stimulus. Now, though, any stimulus slowdown was delayed by the U.S. government shutdown. Since Hong Kong has a currency pegged to the U.S. dollar, if the Fed does relax its ultralow interest rate policy next year, rates in Hong Kong could rise, causing pain to many investors in the local property market.
While Louie and Qin cite several other explanations for their plunge prediction, none seems too dramatic on its own. For instance, they say household income is stalling. After rising by nearly 15 percent at the end of 2011, "private median household income has decelerated," they write, with zero growth in the second quarter of this year.
Another problem: Rents are high and can't go much higher. Indeed, at the top end of the market there's already strong downward pressure on rents, as Bloomberg reported last week. Investment banks and other financial heavyweights are cutting back on expatriate housing allowances and other perks, and rents for the posh apartments that cater to that crowd have dropped 13 percent over the past two years.
There's too much supply in the market at a time when the Hong Kong government has taken measures to suppress demand from mainland China and other foreign buyers of Hong Kong property. Meanwhile, with sales down almost 50 percent this year, local property developers looking to make up for disappointing results are speeding up presales, the Barclays analysts say. "Once developers and secondary home owners start to adjust their opportunity cost expectations from a rising to a falling market, we believe a downward spiral of primary and secondary prices will be triggered."