Why UPS Will Win Christmas, Scroogy Shopping or Not
By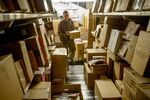 Brick-and-mortar retailers are sweating online competition this holiday season, perhaps more than ever. But it's all upside to UPS. The shipping giant is cashing in both on Internet shopping and old-school retailers trying to mimic Amazon.com—shipping inventory around the country in an incessant supply-chain shuffling.
The company estimates it will handle 4 percent more U.S. packages over the holidays, thanks in part to an expected 15 percent increase in online retail orders.
"We expect this year's holiday season will be another for the record books, as we pick up more than 34 million packages on our peak day," Chief Sales, Marketing and Strategy Officer Alan Gershenhorn said during a conference call this morning.
Indeed, UPS has seen a boost in business all year. Here's a look at its U.S. average daily package volume by quarter, including its projection for the year-end period.

Those gains are not all Zappos shoes and Etsy knickknacks. The business-to-business channel is looking merry as well, thanks to a retail rush to omni-channel—a strategy to let consumers shop any way they want. Order something online and pick it up in a nearby store. Buy something in the store and have it shipped home, rather than carry it.
The hope is that all this convenience will keep customers from defaulting to Amazon.com or showrooming elsewhere. But it is a costly gambit; all that additional shipping is generally free of charge to the buyer.
UPS said it now has 25 large retailers scheduling pickups every evening of products they want to shuffle to other stores by the next day.
Not surprisingly, UPS profit more than doubled in the recent quarter to $1.1 billion, topping Wall Street estimates. Sales were up 3.4 percent, to $13.5 billion, as the company handled almost 5 percent more packages than in the year-earlier period.
"These are solid results, considering market trends and the global economic environment," CFO Kurt Kuehn said.
There's a flip side to the gains, however: higher holiday expenses for a crowd of retailers. Even Amazon.com is apparently feeling the pinch. This week, the Web giant said it would raise the minimum order requirement for free shipping from $25 to $35.
The only thing that could wreck the holidays for UPS is a breakdown in contract negotiations currently under way with some of its union workers. The company said it is confident they will approve a new deal soon, but peak holiday shipping days present some powerful negotiating leverage.