Starbucks Starts Throwing a Very Big Tea Party
by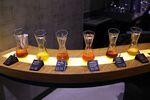 Starbucks is trying to make tea bars happen.
The company that helped create a coffee-drinking, caffeine-fueled culture across the U.S., launching thousands of stores and almost as many jokes, now hopes to open 1,000 tea bars over the next five years. The first one, on New York's tony Upper East Side, opened on Thursday. It's called Teavana Fine Teas + Tea Bar.
That's right, Teavana. Starbucks bought the tea company less than a year ago for about $620 million; at the time, Teavana had about 350 stores in malls across the country, selling loose leaf tea, cast-iron tea pots, glass tea brewers, iced tea glasses, and more. It sold some brewed tea, too, but it didn't sell Maharaja Chai Latte ($4.95 for 16 ounces) or Apple Oolong Chia Fresca ($5.95 for 24 oz.)
"We're introducing Americans to different tea flavors," says Charlie Cain, vice president for concept development at Starbucks. "People don't realize the complex flavors of tea. It's closer to wine than coffee is."
Tea is also potentially a very big business for Starbucks. Chief Executive Officer Howard Schultz described tea as a "$90 billion global market opportunity" in the tea bar press release on the company's website. It's the second-most popular drink in the world—after water, not coffee. It would be just like Schultz to bring upscale tea bars to the tea-drinking countries of the world.
Starbucks's Madison Avenue tea store offers 100 flavors, all proprietary to Teavana, including Strawberry Lemonade, Cococaramel Sea Salt, Yunnan Golden Pu-Erh, Spice of Life, and Slimful Chocolate Decadence Oolong. "Some names are mixology inspired," says Naoko Tsunoda, the director of tea development at Teavana, who attended the opening. "We have a Strawberry Blush Rose that was inspired by absinthe. But absinthe doesn't have appeal as a name."
The drinks menu is small—featuring specialty teas and tea lattes, iced teas, and what's called craft tea infusions—so the uninitiated customer doesn't get overwhelmed. Six tea flavors are featured, along with some samples. "Americans do everything to excess," said a bewildered Australian tourist who had wandered into the store.
The Teavana bar offers food, too, but not like the fare Starbucks offers. It's better. It's also lighter, so as to not overwhelm the subtle tea flavors. And it's more expensive: A mushroom and kale flatbread goes for $8.95; lemongrass ginger chicken rice balls cost $7.95. There's also fresh salads, macaroons, and poached pear and blue cheese triangles.
Behind the counter, a tea brewing machine specially designed for Starbucks by a company called BKON, uses a process called reverse atmospheric infusion to quickly extract flavor from tea leaves. (Quickly, in this case, means about 90 seconds.) More delicate teas are brewed the old-fashioned way, which can take up to five minutes. Starbucks' new soda machine, the Fizzio, is behind the counter, too, for turning out sparkling teas. Some drinks include juice from one of Starbucks's other acquisitions, Evolution Fresh. And customers can choose among various kinds of milk, as well as the amount of sweetener. (This is Teavana's own brand, called PerfectTea Sugar).
No Ventis or Grandes here. Nor Starbucks signs or logos. "We don't shy away from the name," says Cain. "But the Teavana name is big enough."
Rashad Moumneh, a freelance marketing expert visiting from California, offers his opinion about the tea bar's name as he drinks a Citrus Lavender Sage Ginger Cooler. (His tea review: Very positive.) "If they put the Starbucks name on the store, people might think less of it," he says. "You're paying more and waiting longer."
One piece of good news for coffee addicts: Starbucks reward cards work at the Teavana bar.
Before it's here, it's on the Bloomberg Terminal.
LEARN MORE