pursuits
Southwest Is Slowly Talking Itself Into Being O.K. With Bag Fees
By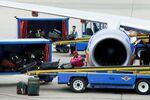 Southwest Airlines has promised that "bags fly free" for years, a pitch nearly as ubiquitous as that duck quacking about a certain insurer. But only some bags fly free at Southwest, which operates a wholly owned subsidiary called AirTran Airways on which bags travel for a price.
The $1 billion acquisition of AirTran closed in May 2011. When asked about the baggage-fee discrepancy, Southwest notes coyly that AirTran's integration won't be complete until the end of 2014 (or when life is found on Mars, whichever comes first). In December, meanwhile, Southwest raised the AirTran bag fees—$25 to check a suitcase and $35 for two—a move expected to yield a cool $100 million for the company this year.
On Thursday, Southwest Chief Executive Officer Gary Kelly made a few newspaper headlines with comments on bag fees that were widely interpreted as "opening the door" to new bag fees. In reality, Kelly was not hinting that he was ready to edge the company toward higher baggage prices any time soon: He simply mentioned an "à la carte approach" in response to a reporter's question as to whether Southwest would continue with its current policy. A Southwest spokeswoman said today that any change in bag policy would be clearly communicated, and not announced on a quarterly conference call. Here's the money quote:
So there is a real value to being different than the herd, and especially when you're different in a way that most—everybody thinks is really good. However, if—over time, if customers prefer the unbundling approach sort of an à la carte approach, and they understand it and they favor that, well, we'd be crazy not to provide our customers with what they want.
This is the standard rationale on unbundling bags, sodas, aisle seats, and other air travel add-ons: We allow our customers to pay only for the things they value. That proposition has gained widespread credibility among millions of fliers who do not want to subsidize such items as a meal or free pillow in their ticket price, preferring a lower fare instead.
Still, after years of advertising how Southwest is different when it comes to unbundling, the offer of giving customers "what they want" with a bag fee is, at best, disingenuous. Southwest knows its customers do not prefer the unbundling approach when it comes to bags and that many of them choose the airline because of the lack of a fee to bring a suitcase.
So don't look for a bag fee next year on the full Southwest, which Kelly said would offer "significant distraction" if the company were to impose fees across its entire operation. Over time, you should expect to start hearing a whole lot less about how bags fly free on Southwest—because one day, they won't.
Before it's here, it's on the Bloomberg Terminal.
LEARN MORE