Post-Shutdown, Small Businesses Foresee a Bleak Economy
By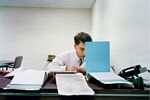 Anybody who listened to small business owners sounding off during the partial shutdown of the U.S. government this month would expect their optimism to have plummeted in recent weeks. Plummet it did, at least according to the results of a monthly survey of members of Vistage International, which describes itself as a "peer advisory organization for CEOs and senior-level executives."
During the second week of the shutdown, researchers collected surveys from about 700 heads of companies with $1 million to $20 million in annual revenue. Twenty-seven percent of respondents in the Wall Street Journal/Vistage Small Business CEO survey said they expect the U.S. economy to get worse during the next 12 months, up from 15 percent of respondents who had a negative outlook in September. Opinion on the current state of the economy, as well as future hiring plans, also worsened, and an overall index of small business confidence fell to its lowest since January.
Confidence was particularly bad among government contractors, though they weren't the only business owners affected by the shutdown. The process for getting loans guaranteed by the federal government slowed as the Small Business Administration furloughed workers. Businesses in and around Washington, D.C., as well as those near shuttered national parks and military bases also suffered.
The Vistage research likely augurs more reports of lower confidence in the weeks to come. More interesting will be how business owners feel a month later, when the shutdown is further in the rearview mirror. Of course, Congress's deal to reopen the government only funds federal agencies into January, and fears that another impasse could cripple small business in 2014 will almost certainly be mounting by then.