Ousted From the B-School Library, Columbia Undergrads Are Fighting Back
Francesca Di Meglio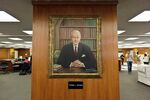 Last semester, MBAs at Columbia Business School effectively gave undergrads the boot from the Watson Library, convincing the school to limit their access to the building during midterms and finals. Now the undergrads are fighting back.
Undergraduates at Columbia University ratified a resolution on Oct. 13 requesting a reversal of the controversial decision to close the business school library to them after 5 p.m. during midterms and finals. At night, when many students study, the library is open only to students of the business school and undergraduate economics majors.
Watson Library is the only library on campus where students can study in groups and bring in food, says Peter Bailinson, a sophomore and vice president of communications for the Columbia College Student Council (CCSC). Closing it to undergrads during finals means more congestion at the other libraries on an already cramped campus, he adds.
The CCSC and the Engineering Student Council offered an explanation for why administrators should reconsider their decision in the resolution. For starters, students documented, through photographs, that the library was underutilized—with about 60 percent of seats remaining empty—after the ban on undergraduates. Business students, who are older and often commute to school, would leave the library earlier in the day, says Bailinson.
In addition, the students argue that as tuition-paying members of the university community, they should not be prohibited from using it, he adds. For now, the resolution is asking for a pilot period for reversing the policy, but the hope is to allow everyone to be able to use the facility permanently.
Columbia University Libraries will have the final say on the matter. The resolution asks the library staff to do its own research about traffic during the pilot program and then make a decision about whether to reinstate access to undergraduates in spring 2014.
Bill Sees, head of circulation and support services for Columbia's libraries, and Keshia Mark, a spokesperson for the business school, did not respond to requests for comment. Two business school students quoted in the Columbia Spectator, a campus newspaper, said they would be fine with undergraduates returning to the fold. One of them, Harvey Kim, a business student in the class of 2015, agreed that "everyone should be able to use it any time," according to the paper.
Join the discussion on the Bloomberg Businessweek Business School Forum, visit us on Facebook, and follow @BWbschools on Twitter.