Life Sentence for Bo Xilai, Appeal Rejected
By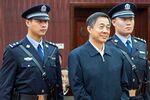 Bringing an end to a saga of high-level corruption, sex, and murder that captivated the Chinese public with its sordid details of official malfeasance, former Politburo member and Chongqing party secretary Bo Xilai's appeal of his life sentence was rejected Friday morning.
"The Shandong Higher People's Court announced the decision of second trial for Bo Xilai's bribery, embezzlement and abuse of power case Friday, rejecting his appeal and affirming the original sentence of life imprisonment," read the terse statement by Xinhua on Oct. 25.
A panel convened to examine the appeal "interrogated Bo several times and heard opinions of his lawyers, verified all evidence, comprehensively examined the facts confirmed during the first trial and legal applications to fully safeguard the litigation rights of Bo and the defence lawyers," reported the Global Times on Oct. 25. "After review by the collegial panel and deliberation of a judgment committee, Shandong Higher People's Court gave its decision."
Bo was originally sentenced by a lower court on Sept. 22, following a five-day trial in August in Jinan, Shandong province, for taking bribes worth 20.4 million yuan ($3.4 million), embezzling 5 million yuan, and abusing power. The sentence also saw Bo's political rights deprived for life and all personal assets confiscated.
During the trial that closed Aug. 26, Bo revealed some of the seamy details. He said his former police chief Wang Lijun was secretly in love with his wife, Gu Kailai (who was earlier given a suspended death sentence for her role in murdering British citizen Neil Heywood). Bo admitted to assaulting Wang—an episode revealed in the trial—but said it was not because the police chief had revealed his wife's involvement in the murder but because Wang had helped destroy Bo's marriage.
His wife and Wang were "as close as glue and paint," Bo said during the trial, a Chinese phrase that describes those who are linked romantically. A year-plus ago when Bo was expelled from the party on Sept. 28, 2012, Xinhua primly reported that the princeling not only "received huge bribes personally and through his family" but also "had or maintained improper sexual relationships with a number of women."
Before it's here, it's on the Bloomberg Terminal.
LEARN MORE