How Spying on Merkel Could End Up Hurting U.S. Advertisers
By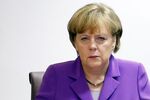 In the wake of a report that the U.S. monitored the cell phone of German Chancellor Angela Merkel, much of the follow-up coverage has focused on the possible diplomatic repercussions for the U.S. government.
But there could be potentially negative consequences for U.S. businesses as well. Particularly for advertisers.
In an interview with the Wall Street Journal yesterday, Sir Martin Sorrell, the chief executive of ad behemoth WPP, noted that the eavesdropping allegations aren't good for "brand America" and could have "commercial repercussions" for advertisers. How so?
The digital ad industry, as it's currently configured, collects a huge amount of data about people's browsing and purchasing habits online in order to better target them with ads. All of this is done with the tacit, if uneasy, acceptance of consumers. When brought to people's attention, they typically express concerns (PDF) about the privacy of their data and how it's being used. But to date, that pervasive sense of discomfort has yet to result in any sweeping regulatory restrictions curtailing data collection. Out of sight, out of mind.
Enter Merkel. The latest revelations of U.S. government surveillance have succeeded in pushing privacy issues onto newspaper front pages and newscasts around the world. It is, in short, a bonanza for online privacy advocates—and one that could give momentum to proposals restricting online data collection.
Last year, officials at the European Commission proposed potentially restrictive online privacy legislation, including a "right-to-be-forgotten" provision. The proposal touched off a wave of criticism at the time from technology companies, ad executives, and legal scholars arguing that the regulations would be bad for business and cause more problems than they would solve.
So far, such regulatory proposals have yet to gain much traction. But the steady drip-drip of stories about the U.S. monitoring of European leaders' communications could have the inadvertent effect of transforming angry politicians into budding online privacy advocates. Any data protection crackdown would likely leave advertisers scrambling. As Kimon Zorbas, the vice president for IAB Europe, told the Wall Street Journal, "It could disrupt a lot of business models."
Before it's here, it's on the Bloomberg Terminal.
LEARN MORE