Hey Female Lawyers, This Firm Wants You to Stop Giggling and Showing Cleavage
By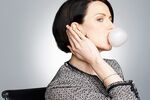 Clifford Chance is one of the largest law firms in the world. It has 3,400 legal advisers spread across 35 offices located everywhere from New York to Casablanca. Last year it made a whopping $1.9 billion in revenue. Needless to say, it's a fancy place to work and expects its employees to retain an air of professionalism and dignity at all times.
Especially its women. Its giggling, fidgeting women.
A member of the law firm's Women's Committee apparently sent a memo recently to every female associate in the U.S. with a list of advice on how women should give a proper presentation at work, and that memo was leaked to the website Above the Law. Clifford Chance did not respond to a request for comment.
Some tips in the leaked memo are actually pretty helpful: "Use [PowerPoint] as a guide, not as your speech." (Duh) "Don't take your purse up to the podium." (Does anybody actually do that?) "Make sure your cellphone is turned off."
But interspersed among these were suggestions that make Clifford Chance sound as if it were staffed by a gaggle of Elle Woods clones. Or worse yet, that leaders of the big law firm just have that opinion of their staff. Advice included in the "Presentation Tips for Women" memo:
• "Don't giggle."

• "Don't squirm."

• "Don't wave your arms"

• "Don't hide behind your hair."

• "Don't dress like a mortician."

• "If wearing a skirt, make sure people can't see up it"

• "Make sure you can stand in your heels."

• "Your voice is higher than you hear."

• "Wear a suit, not your party outfit"

• "Understated jewelry, nothing jingly or clanky"

• "Think Lauren Bacall, not Marilyn Monroe."

• "No one heard Hillary the day she showed cleavage."
The women of Clifford Chance are, apparently, giggling and squirming in outrage. "We have never been a very female friendly firm, but this is beyond the pale," Above the Law quotes its tipster as writing in an e-mail. The post also includes a response from Clifford Chance, which wrote that "the offense caused by a small percentage of the suggestions in the tip sheet was entirely unintentional."
The memo's advice isn't necessarily wrong. If you work at a top-tier law firm, you probably don't want to wear a miniskirt, comb your hair in front of your face, and read your PowerPoint slides in a high-pitched giggle. But it's just unnecessary. These are the type of fundamental public speaking rules students usually learn in high school, if not law school. It's a safe bet that Clifford Chance's female attorneys already know them. Although, to be fair, I had no idea Lauren Bacall gave such good PowerPoint presentations.
Of course, if Clifford Chance's attorneys don't already know these guidelines, everyone should immediately go watch one of the law firm's presentations. Apparently they're given by giggling morticians who have a tendency to trip in their high heels.
Before it's here, it's on the Bloomberg Terminal.
LEARN MORE