A Help-Line Voice Saying What McDonald's Won't: Fast-Food Workers Need Aid
By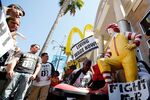 America's low-wage, fast-food workers have been making a lot of news lately. Researchers at Berkeley released a report calculating that 52 percent of families of fast-food workers are enrolled in at least one public-assistance program, at a cost to taxpayers of about $7 billion a year. McDonald's employees, working for the biggest burger chain in the country, accounted for about $1.2 billion of that total.
Now a McDonald's help line for employees, called McResource Line, has come to broader attention, courtesy of an advocacy group called Low Pay Is Not OK. In a taped conversation published online, a help-line representative is heard offering to help one McDonald's worker access a range public resources, from food stamps to Medicaid.
The employee, Nancy Salgado, earns $8.25 an hour after working for a decade at a McDonald's in Chicago. She can be heard describing the two kids she is raising on her own and asks for help to make ends meet. The McResource representative does her job well: She's matter-of-fact about Salgado's predicament, calmly explains the benefits Salgado might be eligible for, and answers all her questions. During the entire 14-minute conversation reviewed by Bloomberg Businessweek, Salgado doesn't ask why the McDonald's franchisee pays her less than she needs to raise a family, and the McResource representative never suggests Salgado should be paid more.
It's easy to criticize this effort by McDonald's, especially after its McBudget fiasco this summer. That financial-planning tool suggested employees might need a second income to meet basic budget goals, such as paying for housing. Both efforts amount to an implicit acknowledgement by McDonald's that the company and its franchisees don't always pay a living wage and that employees should know where to turn elsewhere for the help they need.
That is not, however, what McDonald's says publicly. The company issued a statement about the McResources video that says in part: "The McResource Line is intended to be a free, confidential service to help employees and their families get answers to a variety of questions or provide resources on a variety of topics including housing, child care, transportation, grief, elder care and more."
It turns out that Salgado has brought this matter up before: She and other members of Fight for $15, a group calling for higher wages for fast-food workers, interrupted a speech by Jeff Stratton, president of McDonald's USA, in Chicago earlier this month. "It's really hard for me to feed my two kids and struggle day to day. Do you think this is fair, that I have to be making $8.25 when I have worked for McDonald's for 10 years?" Salgado shouted out. Stratton, caught off guard, responded: "I've been there 40 years."
Before it's here, it's on the Bloomberg Terminal.
LEARN MORE