A Case for a Stronger Dollar
By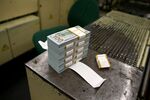 With all the easy money sloshing around the U.S. economy, and no real end in sight to the Federal Reserve's $85 billion in monthly bond buying, there is a lot of concern over a weak dollar.
A note this morning from Julian Jessop, the chief global economist at Capital Economics, reminds us that the world is finite and that to lay out a case that the dollar will weaken, you have to ask the question: against what?
Yes, the U.S. is conducting massive amounts of monetary easing, which does push down the value of the dollar. But so is everyone else, Europe and Japan in particular. And compared with them, as tepid as the recovery's been, U.S. economic growth looks stronger than in a lot of places. "Of all the major economies, the U.S. has perhaps the best chance of reducing its debt burden by stronger growth," writes Jessop.
Jessop argues that the real risk of currency weakness is to the Japanese yen, especially as Japan was the last to ease its monetary policies and may be the last to begin to tighten. Here's a look at how the U.S., Japan, and the euro zone economies have done since December 2007, when the recession officially began in the U.S.

Before it's here, it's on the Bloomberg Terminal.
LEARN MORE