Time Warner Cable Will Carry Al Jazeera America
By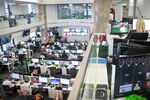 It may be the shortest wait ever in the history of Time Warner Cable (see Network, NFL, for comparison).
A mere two months after its debut, Al Jazeera America announced today that it has reached a distribution agreement with Time Warner Cable. Over the next six months, the deal will make the relatively new cable news entrant available for the first time to millions of cable-TV subscribers in several key U.S. markets, including New York, Dallas, and Los Angeles.
"We said in January that we would consider Al Jazeera America," Melinda Witmer, an executive at Time Warner Cable, says in a statement today. "Now that the channel is live, we think that it would be of value to our customers and are pleased to make it available."
Getting distribution is hard for independent cable networks. Getting viewers actually to tune in on a regular basis is even harder, and to date, Al Jazeera has struggled to compete in a crowded pay-TV landscape already teeming with popular news channels.
Typically it takes years for a cable news brand to gain a loyal following. Owning one big news event can help speed up the process immensely. CNN benefited from its high-profile coverage of the Persian Gulf War. Fox News had the Florida recount. MSNBC dominated the backlash to the war in Iraq.
What big news story will Al Jazeera America own?
For now, the network's executives are preaching patience. "Ratings are critical," Ehab Al Shihabi, Al Jazeera America's interim chief executive officer, told the New York Times today. "But what's more critical for us is our impact on Main Street."