pursuits
Small to Big: The RealReal
Bringing the high-end consignment shop to the Web
By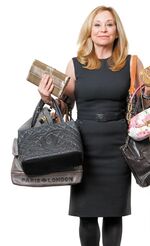 After watching a friend snag fabulous deals on a Chanel coat and a Louis Vuitton handbag while shopping at a high-end consignment store, Julie Wainwright set out to replicate the experience online. TheRealReal.com, which she launched in March 2011, sells secondhand designer clothes, shoes, and accessories. It marries the deep discounts shoppers can get on EBay with the slick presentation of flash-sale sites such as Gilt.com. For Wainwright, 56, whose résumé includes a stint as chief executive officer of the defunct Pets.com, the perennial challenge has been getting enough inventory to meet demand.
I began with a circle of people I knew and myself. In that group we got about 900 items. We sold that out right away, in the first two or three weeks. Then it became, "What else can we do?" I started getting calls as soon as the site was up from Los Angeles that people wanted us to pick up clothes. One of us flew down to L.A. to pick up a few boxes, and she drove back a U-Haul truck with more than 1,000 pieces. We sold that faster than we sold out the first 900. How are we going to solve this problem of getting product flowing in on a regular basis? We obviously can sell everything we bring in.

That's when I decided to put together an in-market sales team. Our best people in high markets are bringing in more than $5 million worth of product a year, resale value. We started with one person in L.A. in September 2011. She now has six people working for her. I have 22 in the field now. Almost every major city has a small team
[Inventory] is still the limiting factor. Last August we got in 5,000 units. This August we got 30,000 units. We've been in fine jewelry, shoes, bags, watches, mens for the last eight months. We're still selling through everything we bring in.
In theory, we would never need another dollar [of investment]. We most likely will take on more money for growth and expansion overseas. I think I'm the only woman over 50 that was funded in the last five years.or at least an individual.
It's sort of a big experiment in solving this problem. Half of our consignors—we have now about 9,000—have never consigned before because it was too hard. Once they start consigning, they repeat ona regular basis.
Now we have a warehouse in New York and one in San Francisco. We receive the items, we authenticate them, we photograph them, we put them in stock, and then we pick, pack, and ship. In New York something can come in in the morning, get photographed, be in a 4 p.m. sale, and ship out the next day. About 80 percent of things sell in the first week.
Before it's here, it's on the Bloomberg Terminal.
LEARN MORE