Same Old Amazon: All Sales, No Profit
By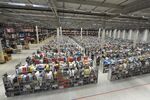 Here once again is the familiar Amazon paradox: The e-commerce king from Seattle has made a habit of losing money of late—in three of four quarters over the last year—yet its stock price is near an all-time high, following a 35 percent jump over the last 12 months.
Now we have a fresh example of this living, breathing corporate contradiction. Amazon just posted a healthy $17.09 billion in net sales during its third quarter, a 24 percent jump compared with the same period a year ago. But the company lost 9¢ per share. This is what amounts for good news to Amazon shareholders: Analysts had predicted sales of $16.77 billion and accurately predicted that 9¢ loss.
Naturally, shares rose about 1.5 percent in after-hours trading.
We've endeavored to explain the Amazon paradox before, and we'll do it again here. Jeff Bezos and company have been calling their shots for years. More than a year ago, they told faithful long-term investors that they were entering a growth phase, investing the company's cash into building new fulfillment centers, expanding internationally, and rolling out new hardware. (A planned set-top box, which we wrote about earlier this year, has reportedly been delayed.)
In the meantime, investors are happy to sit and watch the company grow faster than the rest of e-commerce—industry revenue was up 13 percent in the third quarter, year-on-year, according to RBC Capital Markets. That means Amazon is taking market share away from both online and offline rivals. While it steals customers, Amazon is expanding aggressively into additional markets. In the earnings press release, Bezos called attention to the three new Kindle Fire tablets, 8 million square feet of new fulfillment center capacity, and 1,382 newly deployed Kiva robots, which roam Amazon's warehouses delivering palettes of products to human workers. Bezos also referred to Amazon's victory over IBM in their legal battle to service the cloud computing needs of the Central Intelligence Agency. "It's been a busy few months," he wrote.
Amazon chief financial officer Tom Szkutak was asked on a media call when the company would again start showing profits. He declined to say but noted that Bezos and his management team see green fields everywhere. "We feel very fortunate that we have a lot of great opportunities to invest in," he said. Amazon is also fortunate that it has shareholders willing to go along for the ride.