Ovation Network Bets Fine Arts Cable Can Thrive
The Ovation channel bets fine arts shows can still attract viewers
by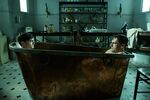 Over the years, cable-TV networks have managed to develop hit series about an impressive range of seemingly unappealing subjects—funeral homes, long-haul truck drivers, gold miners, and New Jersey housewives. But in October a small, independent network found success tapping perhaps the most unlikely source material in the history of pay TV: classic Russian literature.
On Oct. 2, actors Daniel Radcliffe of Harry Potter fame and Jon Hamm of Mad Men starred in the U.S. première of A Young Doctor's Notebook, an eight-part miniseries about the travails of an inexperienced physician working in a remote village in early 20th century Russia. The series, which aired last year on the Sky Arts channel in the U.K., is based on short stories by the novelist Mikhail Bulgakov. "The supporting cast is terrific, the setting sublime, and there is absolutely nothing like it on television," said the Los Angeles Times.
Throughout the series, the main character, played by Radcliffe as a young man and Hamm in middle age, struggles to treat patients suffering from a range of maladies. Likewise, A Young Doctor's Notebook may help to alleviate the suffering of the channel on which it airs. Ovation, a privately owned network that began in 1997 and specializes in shows about the arts, had been in critical condition since the start of the year. In December 2012, Time Warner Cable announced it was dumping the channel. "We've paid more than $10 million in carriage fees to Ovation over the past several years," it said in a statement. "They've had ample opportunity to improve the ratings and the content, and have failed to deliver."
The exile looked particularly grave because many Time Warner Cable subscribers live in the New York area, a crucial market for anyone hoping to reach fine arts fans. "We lost about 15 percent of our distribution," says Chad Gutstein, Ovation's chief operating officer. "It obviously wasn't fun."
So it set about changing Time Warner Cable's mind. In May the network said it would increase original programming by 400 percent. Many of the new shows seem aimed at New Yorkers: Ovation is teaming with Condé Nast on The Fashion Fund, which will star Manhattan tastemakers such as Anna Wintour and Diane von Furstenberg. And an original series called James Franco Presents will star the omnipresent actor-turned-conceptual-artist in an unscripted series documenting his creative pursuits.
The strategy worked. On Oct. 16—the day the third episode of A Young Doctor's Notebook aired—Time Warner Cable announced it will reinstate the network beginning in January. The channel will be available in 50 million homes—roughly half the U.S. pay-TV market. SNL Kagan estimates Ovation's ad revenue jumped from $27 million in 2011 to $39 million this year. Gutstein declined to comment on the network's profitability.
Historically, cable networks focused on the fine arts have struggled. Bravo and A&E started off with such programming but prospered only after ditching opera in favor of reality TV. Gutstein argues that, with the right sensibility, highbrow topics can become popular hits. Witness A Young Doctor's Notebook. "If I said, 'Do you want to watch a show about early 20th century Russian literature?' most people are going to yawn," he says. "But if I say, 'Do you want to watch Jon Hamm and Daniel Radcliffe's new series?' you're going to say, 'I love those guys. I'll take a look.' It's about reframing the arts in a way that's accessible to a mass audience."
Before it's here, it's on the Bloomberg Terminal.
LEARN MORE