Masmoo3 Introduces Audiobooks to the Arab World
A Jordanian startup taps into Islam's rich oral tradition
Sarah A. Topol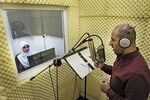 In a small recording studio in Amman, Jordan, a slight young woman sits in front of a computer, adjusting pitch and sound levels. "Excellent! Go," she says, waving to the man standing on the other side of the soundproof glass. Seconds later, a rich baritone floods the control room. The words are centuries old, from a collection of classic Arabic poetry to be released as an audiobook later this year by a startup called Masmoo3.
Its founders are brother and sister Ala and Alaa Suleiman. The idea came to them in 2008 when Ala, 35, a computer engineer and a devotee of English audiobooks, couldn't find an Arabic-language version of Steve Chandler's 100 Ways to Motivate Yourself.
Audiobooks are rare in the Arab world, despite a strong oral culture and persistent illiteracy (a quarter of adults in the region cannot read). Muslims listen to Koranic recitation and religious sermons on audio cassettes, CDs, and their mobile phones, so the Suleimans were certain there'd be demand. Ala estimates the market for Muslim audio materials is as large as $300 million. "If we can get 10 percent of people who listen in the Arab world, this is the ultimate customer base we want in the next five years," he says.
In 2011 the Suleimans took their business idea to Oasis500, an organization that supports startups in Amman. They came away with $30,000 in seed money for Masmoo3 (which means audible in English; the three is part of the phonetic pronunciation), plus guidance on how to draft a business plan and pitch their idea to Oasis500's network of angel investors.
One of them, Ihab al-Ramlawi, a Jordanian real estate developer, put $93,000 into the company. Al-Ramlawi says he finds the audiobook market appealing partly for personal reasons: His children attend English-language schools in the Persian Gulf, and he worries they're losing touch with their mother tongue. "We struggle to get them to know about Arabic and their culture," he says. "I saw this could be a solution for families."
Suleiman says that growing up he'd always thought entrepreneurship was reserved for the rich. "My family was an ordinary family, with my parents working and both with low incomes," he says. "After my sister and I graduated [from college] and started to work, we became slightly middle class."
Masmoo3 faced challenges from the outset. "We were actually building the industry from scratch," says Suleiman. Many Arabic publishers don't own the audio rights to books they publish in translation. Others worried audiobooks would replace print. So Masmoo3 started building a library of books in the public domain. It also focused on genres already popular in print: self-help, business, and religious texts.
The Suleimans decided to take advantage of the region's Internet boom by making their recordings available as digital files. Web usage in the Middle East and North Africa has grown 2,500 percent over the past decade, according to ArabNet, an online hub for the region's tech community. Masmoo3's biggest market is Saudi Arabia.
At the outset, Masmoo3 didn't have its own recording studio and had to make do with space lent by a Jordanian radio station. It took two weeks of working around the station's schedule to record the first audiobook. "I was the sound engineer and the narrator and the director," recalls Suleiman.
Less than two years later, the company boasts its own studio and a staff of seven editors and 20 freelance narrators. Masmoo3's catalog now contains more than 65 books and 140 children's stories. Titles cost from $1,000 to $2,000 to produce, and downloads sell for $1 to $15, with the company pocketing a 25 percent to 30 percent cut. Its offerings are available through local mobile carriers; Maktabati Mobile, a reading app for Apple and Android devices; and Audible, an Amazon.com subsidiary. Qatar Airways and Emirates also offer Masmoo3 content on flights.
The startup's founders are working to raise $300,000 from investors to create their own apps, expand their catalog, and do some marketing. The siblings are also exploring setting up recording studios in Lebanon, where labor costs are lower. "Once we secure the needed funds," Suleiman says, "we will start to produce massively."
Before it's here, it's on the Bloomberg Terminal.
LEARN MORE