A Hedge Fund That Bet Against Housing Becomes an Ohio Landlord
Magnetar, known for shorting the housing market, buys 1,500 rental homes in an Ohio town
By and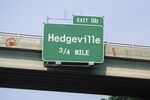 Thousands of brick houses line the streets of Huber Heights, a leafy suburb of Dayton named for Charles Huber, the builder who developed it in the 1950s. Until this year, his family was the Ohio town's biggest landlord, owning one-third of all rental housing. Now the tenants' payments are being routed to a $9 billion hedge fund.
In February, Magnetar Capital, a hedge fund known for its controversial housing bets leading up to the property crash, acquired a company that owns about 1,900 rental properties—about 1,500 of them in Huber Heights—from Huber's widow, Teresa. The purchase makes Magnetar the owner of one in every 11 homes in the town. One of its first moves as landlord was to ask for a tax break. On April 1, VineBrook Partners, the company Magnetar hired to manage the properties, filed to have the assessed value on 1,218 of the homes cut by 49 percent, to $50 million from $98.6 million, according to Karl Keith, the Montgomery County auditor.
Assessments are based on a combination of comparable sales and, for rental properties, estimates of cash flow to the owners. Keith, whose office is holding hearings on the tax appeal, says granting the request would reduce property tax collections by $1.39 million. About $800,000 of that supports Huber Heights City Schools—equivalent to about 16 teaching positions. Reassessments also could influence surrounding property values. "Other property owners might look at those and see those as evidence their properties are worth less," Keith says. If Magnetar is turned down, it can appeal all the way to Ohio's Supreme Court.
Last year U.S. home prices dropped to a low of 35 percent below their 2006 peak, triggering a shopping spree by large money managers. Blackstone Group has led the stampede, spending more than $7.5 billion on almost 40,000 properties, followed by American Homes 4 Rent, which has bought more than 20,000. Investors have largely targeted Phoenix, Atlanta, Dallas, Tampa, and Charlotte, where growth in jobs and population is expected to drive up rents and home values.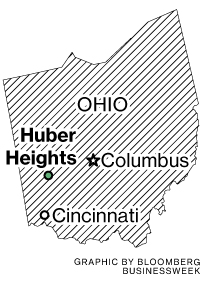 Magnetar picked Huber Heights because it found an existing rental company that could deliver the kind of steady returns its investors expect, says Tony Fratto, a Magnetar spokesman who works for communications firm Hamilton Place Strategies. In buying the company, "they weren't altering the housing mix in a community," he says. "They weren't disruptive. This was a business that was already profitable, and they're making it more profitable with good management and good technology and investments in the properties." Fratto and Teresa Huber declined to comment on the purchase price.
City Council member Mark Campbell says residents are wary. "Everyone is very concerned about being a thumbtack on a map somewhere in a big high-rise office building," he says. "We're not bothered by out-of-town neighbors coming in and investing in our community, but we're not going to be naive."
Started in 2005 by Alec Litowitz and Ross Laser, Magnetar, based in Evanston, Ill., is best known for betting against the housing market, not on it. In 2006 and 2007, Magnetar helped create more than 20 collateralized-debt obligations that pooled at least $32 billion of mortgage bonds and sliced them into securities of varying risk. Magnetar's strategy involved buying the riskiest pieces of the CDOs and simultaneously making larger bets that less risky ones would fail. The hedge fund wagered correctly that if subprime borrowers defaulted and housing declined, then the value of even the safest CDO pieces would suffer.
JPMorgan Chase, which marketed some of the securities allegedly without disclosing Magnetar's role in structuring them, agreed to pay $153.6 million in June 2011 to settle a Securities and Exchange Commission investigation without admitting wrongdoing. The SEC hasn't filed a complaint against Magnetar. On Oct. 18 the agency accused Wing Chau, president of Harding Advisory, the manager of another CDO deal, of misleading investors about Magnetar's participation. Steven Molo, a lawyer for Chau, didn't return phone calls seeking comment. Magnetar told its investors in 2010 that it offered limited input on the creation of CDOs and made bets as part of a "market-neutral" portfolio designed to profit no matter what happened in the housing market.
Knowing that a property tax cut would affect Huber Heights, VineBrook co-founder Daniel Bathon says he spoke in advance with the mayor, vice mayor, and the school board. "We said, 'Look, we know this will be a hit. We want you to be able to plan for it, but if we do this, it will help add to the investment we can make in the properties to improve them,' " he says. That, Bathon adds, would lead to higher values in the long run. "And of course that's great for the town and the schools and for us as well," he says.
Bathon told town officials at a meeting at Huber Heights City Hall in mid-October that VineBrook was going to donate $25,000 to help pay for a police officer at one of the local schools and that it planned to make at least $1 million in improvements to its units in fiscal 2013 and 2014. That's an average of $674 per property. Monthly rents for the homes Magnetar bought in Huber Heights range from about $500 to $1,500, according to Amy Logan, VineBrook's head of leasing. "Many are under market, so there's room to raise the rents," she says. Jennifer Wright, a quality control specialist for Community Tissue Services, a tissue bank, has been living in a Huber Heights home with her two kids for five years. She says she's stayed because her $785 monthly rent is the lowest she can find in town. "I've looked every year for the last six," she says. "Everybody wants over $800 a month for a three-bedroom, two-bath."
Huber Heights grew after World War II along with Dayton as part of America's industrial heartland. Charles Huber started to develop the town midway between Cincinnati and Columbus in the 1950s, selling homes for $13,995 with a $995 down payment, according to the Ohio Historical Society. From 1956 to 1992 he put up 10,707 single-family homes and 2,258 multifamily properties. Huber, who died at age 79 in 2003, fostered the town's expansion, building the first private utility company in the state and donating land for several public schools. The average sale price for an existing home in August was $95,300, according to the Dayton Area Board of Realtors.
Bathon says he goes to Huber Heights "every single week" to work with tenants, vendors, and the town. "I've made significant efforts to make myself known, to make our plans known, to add transparency to a company that probably didn't have that history prior," he says. Many residents are still nervous. The sale of the Huber Heights homes to an institutional investor "will affect the quality of the area more than anything else," says Charles's brother Donald Huber, 81, who built houses in another part of town. "It's a local business. We always tried to maintain a quality image and spent probably more money than we should have to do that. I don't see anybody who's interested in next quarter's earnings doing that."