A Keystone Pipeline That's Ready to Roll
The southern leg of the line will soon be sending oil to the Gulf
By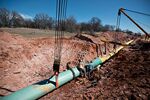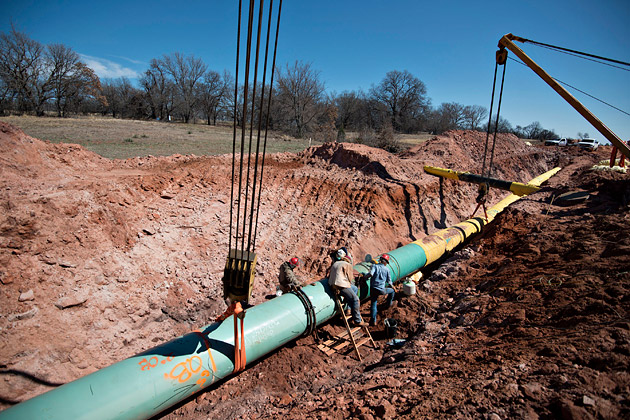 A few times each month since August 2012, a helicopter or small plane has flown over sections of a 485-mile-long strip of land connecting Cushing, Okla., with Nederland, Tex., about 90 miles east of Houston. The pilots are usually accompanied by a photographer snapping pictures of construction work: dump trucks and backhoes mostly, and pieces of pipe lying along a trench. The idea is to track the progress of the southern leg of TransCanada's Keystone XL pipeline, dubbed the Keystone Gulf Coast.
While debate has raged around the 1,179-mile northern leg of the Keystone XL, which aims to bring heavy crude from the oil sands of western Canada into the U.S. and requires federal approval because it crosses international borders, TransCanada has spent the past year quietly building the southern leg. Although most people haven't paid it much attention, oil investors have been watching like hawks. The aerial surveillance is conducted by Genscape, a private energy intelligence company based in Louisville. Its photos provide updates of construction, which Genscape then packages into reports it sells to clients such as hedge funds, banks, and oil traders.
The $2.3 billion Keystone Gulf Coast should be finished by the end of October. TransCanada estimates that by yearend the pipeline will begin delivering as much as 700,000 barrels of oil per day from the oil hub in Cushing to refiners along the Gulf Coast. TransCanada plans eventually to increase that capacity to 830,000 barrels per day. For now, at least some of the oil flowing along the southern leg will be light, sweet crude produced in North Dakota, Kansas, Oklahoma, Colorado, and Texas.
The completion of Keystone's southern leg while its northern one remains in limbo is a big win for independent U.S. oil producers, many of which were against the idea of importing cheaper heavy Canadian crude when TransCanada first announced the Keystone XL in 2008. "We were worried it would drown us in foreign oil and lower the price we could command at the market," says Mickey Thompson, executive director of the Domestic Energy Producers Alliance, a consortium of more than 1,000 independent U.S. oil producers and oilfield service companies in 33 states.
DEPA was founded in January 2009 with the explicit purpose of opposing Keystone XL. It eventually gave its blessing to the project, but only, Thompson says, after winning two key concessions from TransCanada: The Canadians would build the southern leg first and construct branch lines connecting it to North Dakota and Cushing so U.S. producers could get their oil into the pipeline and to refiners on the Gulf Coast.
U.S. oil producers are hoping that by relieving the glut of crude built up in Cushing's tanks over the past two years and delivering more oil to the Gulf Coast market, Keystone's southern leg will help raise the price of domestic light, sweet crude tied to the benchmark West Texas Intermediate futures contract. That in turn could help bring the price of WTI in line with its international rival, Brent, which is based on a basket of crudes from the North Sea. As U.S. oil production has surged over the past three years, much of the new oil has gotten stuck in Cushing, where the price of WTI is set. With no easy or cheap way to get all that crude oil out of Cushing, the price of WTI fell sharply, bringing an end to the premium it had enjoyed for decades over Brent. Since 2011, WTI has traded at an average discount of more than $14 a barrel to Brent crude. With its price no longer reflecting supply-demand fundamentals, WTI lost its prominence in 2012 as the world's most-traded oil contract.
Shipping oil by rail and reversing direction at a few pipelines has siphoned off some of Cushing's glut; Keystone Gulf Coast will make the difference. When it opens, the pipeline will almost double the amount of crude that can get piped from Cushing down to the Gulf. "That should help us regain our competitive advantage, at least for awhile," says Thompson.
While that's good for U.S. producers, Gulf Coast refiners are less excited. They can process Cushing's light sweet oil, but they've also spent plenty to process heavy sour crude from Mexico and Venezuela. With production down in those two countries, "what we really want is the heavy Canadian crude making it down to the Gulf Coast," says Bill Day, a spokesman for Valero Energy, the biggest refiner in the U.S. Crude from Canada's western oil sands is trading about $30 a barrel below WTI. Processing it would not only help refiners replace the lost crude from Venezuela and Mexico but also improve their margins.