In London, the NFL Is Just Cirque du Soleil With Linebackers
By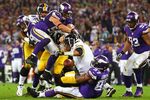 Six NFL teams will travel to London's Wembley Stadium next year for three regular season games, the most ever for the league.
The Jacksonville Jaguars, who play the San Francisco 49ers in London this Sunday, will be back next year for a game against the Dallas Cowboys. In the other two matchups, the Detroit Lions face the Atlanta Falcons and the Miami Dolphins play the Oakland Raiders. Dates are to be determined.
NFL teams have crossed the Atlantic for at least one regular season game since 2007, drawing average attendance of 82,000 at the 90,000-seat Wembley. It's an open question whether the quick-hit attraction can translate into lasting interest—especially now that the league is committed to exporting one of its worst products in the lowly and regularly traveling Jaguars. The NFL claims "a current fan base of more than 12 million, including 2.5 million avid fans, a 30 percent increase in avid fans in the past two years," without saying in its press release where those numbers come from. It also cites gains in TV ratings and youth participation.
Bloomberg Businessweek called Simon Chadwick, professor of sports business strategy at Coventry University, to get his take on whether American football is gaining traction across the pond.
What is the interest in American football in the U.K.?
You are talking to somebody who is old enough to remember back in the 1980s, when Channel 4, bought the rights to the NFL. For a short period of time in the mid-80s we consequently saw a huge boom in interest in American football. Even in the city where I was a student at the time, Leicester, there was a professional American football team. Then gradually it just kind of died a death. People lost interest.
Because?
There just simply isn't a culture of NFL fandom in this country. It was something new that was very American. Most British people look to America first and foremost for their new experiences. They are not Europeans. They are North Americans. Anything that comes from America they take an interest in. They like the excitement, the drama, the glamor, the accents. But after a while the novelty just wore off. And I sense that we are going through something very, very similar to what we went through in the 1980s.
But fans keep showing up at Wembley.
London has an incredibly well-developed experience economy. People look for things to do that are very different [than] what people normally do. Instead of just going to the cinema or just going to a mall or just going out to a chain restaurant for a meal, they are looking for new and different things to do. The annual NFL game so far has been part of that experience economy.
It's like Cirque du Soleil?
Exactly. You know that when Cirque du Soleil comes to the Royal Albert Hall in London for 14 nights, every single night will be sold out within days. The NFL is one of these global mega-entertainment properties.
Why don't Brits embrace it once they get a taste for it?
Their strategy seems to be top down. You showcase an elite professional game in the hope that you infuse and engage. You tend to find in sport that you build from the grass roots upwards. If you look at the NBA in China, for example, they have their elite professional showcase events with their stars and their icons, but at the same time they are investing in grass roots. The NFL has gone in at the top end. It's lots of noise and lots of glamor. It's big, and it's brash. But that only entertains. It doesn't engage people on a long-term sustainable basis.
If you were to say to me now, Simon, where can I find an American football field to take my 6-year-old boy to learn American football? I don't know. I have no idea. There are no pitches. There are no clubs. There are no facilities. The NFL may be active, but I don't know about it, so they're just not active enough.
Is there anything to the notion that the problem is that American football doesn't flow the way soccer does?
There are two elements to this. American football is too much like rugby league and rugby union. A common perception is it just looks and feels like what we've already got. Why come see yours when we've already got our own? But if you draw comparisons with English football, the reputation we have internationally is that it's incredibly fast. It never stops. It's always on the move. The NFL might be just a little too stop-start to capture the imagination of the general public.
Before it's here, it's on the Bloomberg Terminal.
LEARN MORE