In Asia, LGBT Activist Takes on Biggest Challenge Yet
By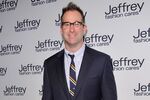 Todd Sears has had success advancing the rights of gays, lesbians, bisexuals, and trans-gendered people on Wall Street and in the City, London's financial district. A former investment banker and ex-Merrill Lynch financial adviser, Sears is now taking on his biggest challenge yet: Asia. The founder of Out on the Street, an LGBT group focused on the finance industry, is in Hong Kong for its first meeting in Asia.
The region isn't nearly as friendly to people in the LGBT community as many countries in Europe or states in the U.S. The Hong Kong government in 1991 got rid of a law criminalizing homosexuality, but there is no recognition of civil unions, let alone marriage equality. A Hong Kong tycoon briefly became an Internet celebrity last year when he offered a $65 million reward to any man who would marry his daughter, who was in a relationship with a woman. Months later, the businessman said the offer still stood. "She can choose whatever she wants," Cecil Chao told the Financial Times regarding his daughter, Gigi. "But anyone who comes along to pursue Gigi, we will give them a moderately deluxe life," he says. A Sacha Baron Cohen movie called The Lesbian that is based on the saga is in the works.
The situation for LGBT people isn't nearly as funny in the region's other would-be financial capital, Singapore. The country still has on the books a statute making sex illegal between men.
The difference between the relatively gay-friendly West and gay-hostile East is a problem for multinationals in the world of finance, according to Sears. "There are significant issues moving talent from the U.K., from the U.S., to places like Singapore, where being gay is actually technically still illegal," he said on Bloomberg Television yesterday. "There are a lot of concerns about that." Bloomberg is a sponsor of Out on the Street: Asia.
While Singapore's Penal Code 377A criminalizing male homosexuality is still in effect, gays and lesbians in the city-state are getting more support from the rest of the community, including prominent multinationals with offices in Singapore. Barclays, Google, and J.P. Morgan were among the sponsors of Pink Dot 2013, the annual rally to support LGBT rights. According to organizers, 21,000 people attended a rally in a local park in June.
So far, that support has yet to translate into decriminalization. In April, a Singapore court rejected a local couple's challenge to 377A. "Parliament has decided that Section 377A should be retained," said Justice Quentin Loh, as reported by Channel NewsAsia, part of MediaCorp, the Singapore media company owned by state-owned investment company Temasek. "Our courts cannot substitute their own views for that of Parliament." An appeal is underway of that ruling as well as another challenge to the constitutionality of the statute.
Sears is hopeful that focusing on the financial industry can help promote change in the region. "This is the first time it's ever been a business issue," he told Bloomberg TV. "It's only ever been a civil rights issue, an HR issue, a social issue."
Before it's here, it's on the Bloomberg Terminal.
LEARN MORE