Hillary Clinton's Early Moves Gives Fodder to 2016 Foes
Julie Hirschfeld Davis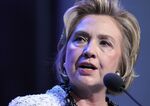 Hillary Clinton's re-emergence on the national scene to address major policy issues and campaign for political allies is casting a shadow over her party's still-unformed 2016 presidential field -- and risking her own prime spot at its pinnacle.
"The more she's out there, the more we're able to counter what she's doing and hold her accountable for past actions, the better for us," said Garrett Marquis, a spokesman for the Alexandria, Virginia-based Stop Hillary PAC. "It provides us a vehicle to remind the public of the scandals that have dogged her."
Former Vermont Governor Howard Dean, an unsuccessful contender for the 2004 Democratic presidential nomination, said Clinton can't cloister herself if she wants to remain relevant.
"You can't not be out there at all, so she's trying to find a good balance, and I think she's probably got a good balance," he said in a recent interview.
"I don't think the fact that she's coming out again in public means that she's made up her mind" on a potential 2016 White House bid, Dean added. "She has something to contribute, and she's not going to sit on the sidelines."
The should-she or shouldn't-she question is one that will be debated as long as Clinton, 65, remains silent on whether she will attempt to follow President Barack Obama's historic election with one of her own by becoming the nation's first female occupant of the Oval Office.
Super PAC
A campaign-in-waiting of experienced aides has already formed around her, and a super-political action committee, Ready for Hillary, had raised $1.3 million on her behalf as of June 30, according to Federal Election Commission records.
Ready for Hillary announced on Twitter today that billionaire investor George Soros has joined its national finance council, a group of donors who contribute or raise $25,000. His support "is an extension of his long-held belief in the power of grassroots organizing," his spokesman Michael Vachon said in an e-mailed statement.
Some allies -- many of whom consider it a foregone conclusion that Clinton will mount a second White House run -- fret that the former secretary of state and first lady risks tarnishing her popularity by exposing herself to public scrutiny three years before the next contest.
Benghazi Heckler
During a speech last night at the University at Buffalo in New York, Clinton was heckled about the 2012 attack on the U.S. facility in Benghazi, Libya, that killed Ambassador Chris Stevens and three other Americans near the end of her four-year stint as secretary of state.
"Benghazi -- you let them die," an audience member yelled as she spoke.
Clinton, who is to give another speech tonight in Washington, campaigned on Oct. 20 in Virginia with former Democratic National Committee Chairman Terry McAuliffe, a Clinton friend and money-raiser, who is seeking the governorship in one of the nation's most politically competitive states.
She has also raised money at private fundraisers for McAuliffe and New York Democratic mayoral candidate Bill de Blasio, who ran her 2000 Senate campaign.
"I've been out of politics for a few years now," she told a crowd in Falls Church, a Washington suburb, where some wore "Ready for Hillary" buttons. "I've had a chance to think a lot about what makes our country so great, what kind of leadership is required to keep it great," she said as she decried the "divisive politics" exposed in this month's budget deadlock.
Picking Battles
Former advisers say Clinton must be careful not to give would-be challengers an opening to draw her into partisan disputes at a time when she could stay publicly quiet, coast on her strong reputation and maintain an apolitical veneer.
"Secretary Clinton needs to pick her battles wisely, because being a presumptive nominee puts a pretty large target on your back, and Lord knows there are a lot of people on the right gunning for her," said Phil Singer, a Democratic consultant at New York City-based Marathon Strategies who was a top aide in Clinton's 2008 presidential bid.
Clinton began her re-emergence in August with a speech to the American Bar Association in San Francisco, where she lamented the low public confidence in major institutions and said states are conducting an "assault on voting rights" of minorities under the guise of combating voter fraud.
Speech Series
She said then that she would deliver a series of speeches later this year; today's in Washington is to mark the 10th anniversary of the Center for American Progress, a policy research group founded by John Podesta, a former chief of staff in President Bill Clinton's White House, and helmed by Neera Tanden, the policy director of Hillary Clinton's 2008 run.
She's also set to give a lecture tomorrow at Colgate University in Hamilton, New York, as part of the school's Global Leaders program.
The appearances may be shrewd strategy for a figure whose very presence in politics -- even on the sidelines -- is seen by other potential contenders as a deterrent to their own bids.
"The tactic of coming out every once in a while and showing her on a large stage in a substantive way -- that is absolutely perfect for her to hold the ground that she holds, which is the high ground," said Democratic strategist Tad Devine. "It's smart to occupy space in politics, because if you don't, somebody else will, and if she shows up occasionally, that keeps the terrain frozen to her advantage."
Polling Strength
A Quinnipiac University poll conducted Sept. 23-29 found Clinton trouncing potential Democratic rivals, with support from 61 percent of Democrats and Democratic-leaning independents -- compared with 11 percent for the next-ranking choice, Vice President Joe Biden.
The survey of 1,497 registered voters nationwide also showed Clinton ahead of three potential Republican challengers in hypothetical general-election matchups, with a 13-point edge over New Jersey Governor Chris Christie, a 17-point advantage over Senator Rand Paul of Kentucky, and a 23-point lead over Texas Senator Ted Cruz.
Still, with more than three years to go before the 2016 balloting and more than two before party nominating contests kick off, Clinton risks giving potential opponents on both sides of the political spectrum ammunition to use against her in advance of a future run.
'Polarizing Figure'
America Rising PAC, a Republican-funded opposition research group, routinely criticizes Clinton on the Tumblr microblogging site it runs, capitalizing on her public appearances to poke holes in her efforts to stay above the partisan fray.
"There's still a sheen that comes from spending four years out of the day-to-day political food fight, but the more political she gets, the more it will come back to earth," Tim Miller, the group's executive director, said in an interview. "When Hillary's been a candidate, she's been a really polarizing figure. Her numbers always get the lowest when she's most politically active."
While Clinton mulls her 2016 ambitions, through her involvement in the New York City-based Bill, Hillary & Chelsea Clinton Foundation she has the opportunity to rub elbows with potential financiers of a presidential run. Among the attendees at the Clinton Global Initiative's annual conference last month were Qualcomm Inc. co-founder Irwin Jacobs, who gave $25,000 to the Ready for Hillary group in June.
Republicans will target Clinton no matter what her decision, and it isn't in her nature to avoid the spotlight, say longtime observers.
"Whether she runs or not, Hillary Clinton's always going to be somewhere, talking to someone about something -- that's just leadership, it's who she is," said Democratic strategist Jill Alper, a veteran of Bill Clinton's campaigns. Opponents are "always going to be taking swipes."
Before it's here, it's on the Bloomberg Terminal.
LEARN MORE