For Many Chinese Gamers, the Office Replaces the Internet Café
Christina Larson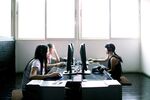 "I studied so hard in middle school to attend a good high school. And I studied so hard in high school to do well on the gaokao [exam] to get into a good college. Now I just want to relax," says Tony Wang, a 20-something marketing assistant in Beijing. Like many young Chinese professionals, he passes some idle time at the office immersed in online games. "Maybe four or five hours a week," he estimates. Sometimes he imagines his annoying colleagues are among the animated onscreen targets.
It would be an understatement to say many Chinese professionals, of varying ages, aren't fully engaged at work. According to a recent Gallup World Poll, just 6 percent of Chinese workers said they were "psychologically committed to their jobs and likely to be making positive contributions to their organizations." More than two-thirds said they were "not engaged" on the job, while 26 percent were "actively disengaged"—that is, "unhappy and unproductive at work and liable to spread negativity to co-workers." (In the U.S., by contrast, 30 percent of workers polled said they were "engaged" at work.)
One common outlet for passing the time is playing video games. According to an Oct. 23 study by Niko Partners, a research firm specializing in the Asian gaming market, more people in China now play video games at the office than in Internet cafés, a dramatic shift from a decade ago.
In 2013, 208 million people played PC-based games in mainland China and 288 million played mobile games. Of those, 64 percent mostly play games at home, 19 percent play games in the office, and 17 in Internet cafés. Online warriors are also interested in playing better games. Two years ago, the top criterion for picking games was "what friends are playing;" now it's finding "best in genre."
In 2012, mobile gaming—the fastest-growing segment of the Chinese market—netted $750 million in revenue. Niko Partners estimates that it will grow to $1.2 billion in 2013.
Nor are video games just for the young in China. "Chinese gamers are no longer defined as 18- to 24-year-old males competitively playing MMOGs [massively multiplayer online games] with their friends, though that group remains important," says Kevin Hause, senior partner of Niko Partners. "We now observe…that kids engage with simple mobile games—and middle-aged gamers continue to play MMORPGs [massively multiplayer online role-playing games] and multiple mobile games."
Getting a day job in the working world doesn't mean leaving behind World of Tanks and World of Warcraft.